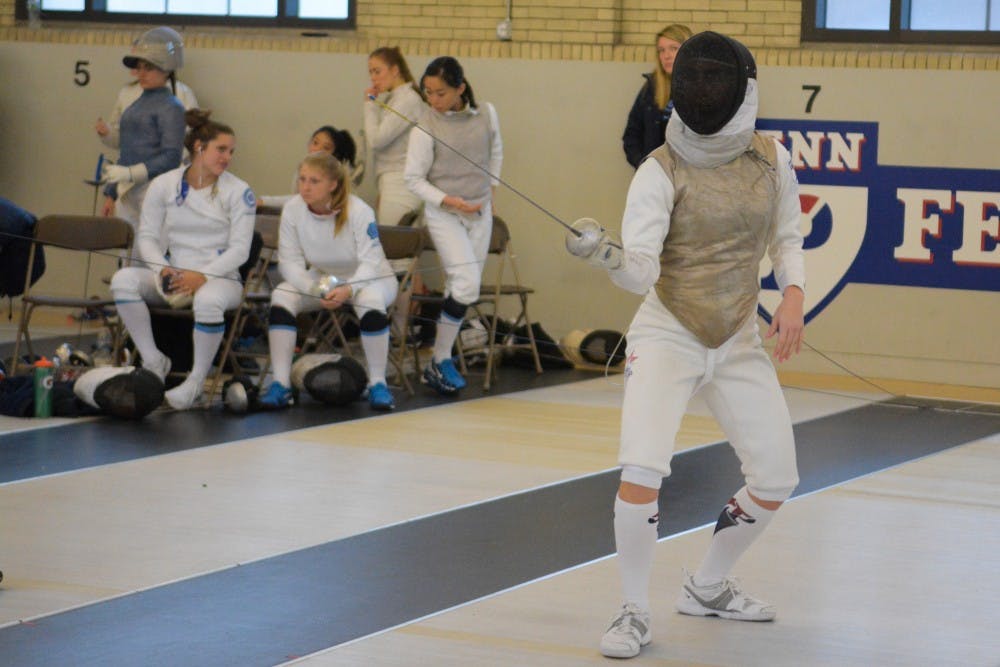 The quest for outright Ivy League championships took a stall after a tough weekend at Northwestern.
Penn fencing ran into a group of nationally ranked opponents at the Northwestern Duals. The women's squad held its own against a solid lineup of teams. The Quakers finished the weekend with a record of 3-2, with the two losses against No. 1 Notre Dame and No. 5 Ohio State. On the men's side, the Quakers didn't fare as well, finishing the weekend 2-3, with losing bouts coming to the hands of the No. 1 Notre Dame, No. 2 Ohio State, and No. 10 Stanford.
Coming into the weekend, the women's team (22-8, 2-1 Ivy) knew their expectations. Notre Dame and Ohio State posed tough matchups, while the other three schools, Stanford, UC San Diego, and Air Force, were all unranked but received top 10 votes in the most recent national rankings.
Just two weeks ago, the Quakers were handled by the Fighting Irish at the Philadelphia Invitational, losing 21-6. This time around, though, the Red and Blue almost flipped the script, but ultimately fell short, losing 15-12. There was a sense of deja vu when the women took on Ohio State, another team they lost to earlier in the season, by a score of 18-9. Again, the women played a much more competitive match, falling by a score of 15-12.
The other matches over the weekend went exactly how coach Andy Ma would have hoped. The Quakers easily beat Air Force by a score of 19-8. They, then, came out on top against UC San Diego, 16-11. The Red and Blue closed out the weekend with a romping of Stanford, 22-5.
As the No. 7 in the country, the men knew they could compete with any of the teams over the weekend. After losing a heartbreaker to the No. 1 Fighting Irish by just one point at the Philadelphia Invitational, the Quakers were set to be motivated for their rematch. Again, though, the team could not find a way to win that one point, losing 14-13. The Quakers' match with Ohio State told a similar tale, as they were not able to win their rematch, losing by a score of 16-11.
Both teams are now putting all of their focus on the Ivy Championships next weekend, which will take place in Princeton, N.J. The men will be looking to complete a three-peat, this time winning the championship outright. The women, after a solid week, are now poised to gun for the number one spot in the Ivy League, something they have not earned since 2004.
All comments eligible for publication in Daily Pennsylvanian, Inc. publications.