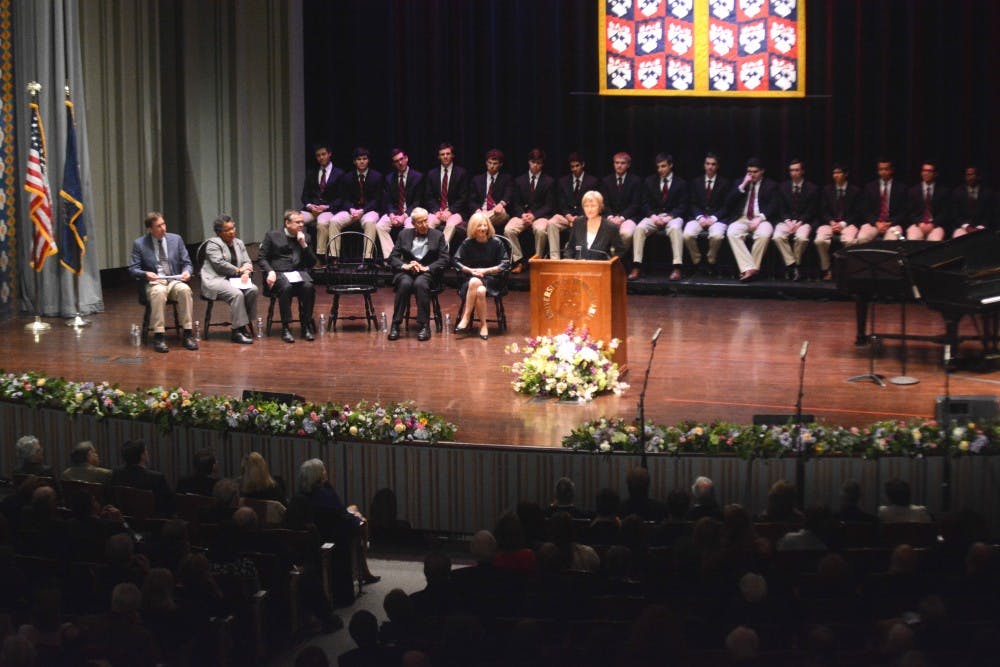 As friends and family looked back on Sheldon Hackney's life on Thursday night, they did what he would have wanted the most: they looked onward.
Penn President Amy Gutmann began a memorial service in Irvine Auditorium for former University president Sheldon Hackney by remembering how he advocated for policies well-ahead of his time, shaping Penn's future.
She shared an anecdote about how Hackney pushed for benefits for same-sex couples in the 1980s despite the obstacles that he knew he would face. This ultimately ensured that Penn became one of the first universities to extend benefits to LGBT couples.
Hackney's wife, Lucy Hackney, said in an interview after the service that part of his legacy was the impact he had by moving into the President's house on campus. The Hackneys were the first Presidential family to live right on campus "and that changed everything," she said.
"We were at Penn all the time — good, bad and in-between," she said.
Former Provost Thomas Ehrlich remembered the hostility Hackney faced when he first arrived as President, and how he never allowed it to shape his words or deeds.
He remembered that Hackney boldly refashioned undergraduate admissions in order to diversify a campus that was largely composed of students from the Northeast. He also said Hackney's work made Penn a place where extended conversation and thoughtful dialogue about difficult issues could take place.
Reverend Timothy Stafford of Christ Church, where Hackney regularly attended, gave insight into the spiritual man that Hackney was. "He was a prisoner of hope and a believer in a better future," he said. Stafford recalled Hackney's last words to him, as he sat in Hackney's home in Martha's Vineyard: "Onward." Hackney was the historian who never looked backwards, Stafford said.
Harvard President Drew Gilpin Faust said Hackney was an inspiration for her. She talked about his contagious passion and his belief in others that made them want to believe in themselves. "Sheldon believed in the redemptive power of education, of reason, of respect," she said.
The Glee Club also performed a series of songs that paid tribute to Hackney's Southern background.
Department Chair of Africana Studies Barbara Savage remembered meeting Hackney through his wife, since they both served on the Children's Defense Fund. As a fellow colleague of Hackney's in the History department, she spoke of his eagerness and humility that only caused people to love him more. "I saw someone who was tough, but fair and gracious in disagreement," she said.
Hackney's son, Fain Hackney, closed the ceremony with an emotional recollection of his father. He reminisced on his fondest memories — the times they spent playing sports together.
He joked about his father's imperfections, but took a more serious note as he invited the crowd to take a deeper look at who Sheldon Hackney was. "He was courageous and strong in death ... however, sometimes I do wish that he'd been able to take off his armor a little bit and show us all of him — his worries and fears."
Fain spoke of the poems he discovered in his father's study after his death that revealed some of the emotions that the family had not always seen. There, they found poems about love, life, growth and separation.
In a personal interview, Fain Hackney shared his thoughts on how his father's beliefs impacted the way he led the University. "I think he believed in treating everybody the same and treated people with respect," he said, "and I think that translated into the way he governed Penn and the way he did everything in his life."
He talked about the great example his father set for him and and his late sister.
"He treated people with kindness and respect," Fain said . "He achieved some power and notoriety but did not bathe in it. He liked to be appreciated but did not command it. If it served the greater good for others to get the credit, he let that happen."
In a room filled with Hackney's closest friends and colleagues, Fain ended his speech with words familiar to those who knew Hackney well.
"Onward we all go."
Comments powered by

Disqus
Please note All comments are eligible for publication in The Daily Pennsylvanian.