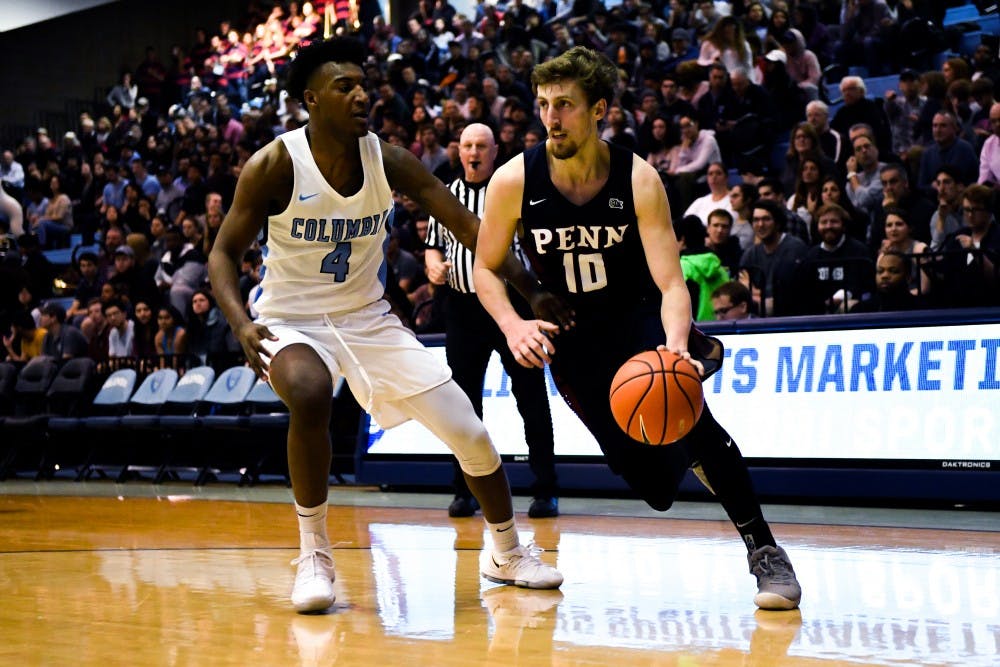 The final regular season matchups are upon us.
Penn men's basketball will travel to Yale and Brown this weekend for its final tune-up before post-season play. The Quakers (21-7, 11-1 Ivy) will look to lock up the number one seed for the Ivy League Tournament the next week.
Friday's matchup against the Elis (14-14, 7-5) has the potential to look slightly different than the first meeting between these teams earlier in the season.
Yale's Makai Mason, the 2016-2017 Preseason Ivy Player of the Year who led Yale's upset of No. 5 seed Baylor in the 2016 NCAA Tournament, was hurt all of last season. The guard saw his first game action this season two weeks ago against Harvard, logging 21 minutes and 8 points. Although he has not played since that match up, teams have no choice but to prepare for him given his prolific ability to change any game.
With a spot in the Ivy Tournament already locked up, the Bulldogs might choose to rest Mason this weekend in hopes that he could play during the tournament when they need him most. But whether they see Mason this weekend or next, the Red and Blue do not seem to be losing sleep over the possibility of facing him.
"It's like [preparing for] anyone else," coach Steve Donahue said. "You try to go back on film and figure out where he fits in and what he did in the Harvard game, the one game he did play, and be prepared."
Although the matchup against Yale could bring more drama, the more momentous game could come against Brown (11-14, 4-8) given its Ivy tournament implications for both teams.
The Red and Blue could be playing for the regular season Ivy League crown and the No. 1 seed in the Ivy League tournament, while Brown could be playing for their tournament life in a do-or-die game.
The Bears are currently in a tie for 6th in the Ivy standings, but they are just one game back from punching their ticket to the Palestra. They need some help however. Cornell must drop both of their games this weekend for the Bears to even have a chance, while the Bears would need to win out and get some help with tiebreakers to pull off some early Ivy madness.
Brown leads the Ivy League in points per game, with 77. That offensive fire power was on full display when these played earlier this season at the Palestra, when Brown scored 90 (albeit in overtime) in a losing effort against the Quakers.
The Bears offense is led by Brandon Anderson and Desmond Cambridge, both guards who average an identical 17.6 points per game. They have also been getting efficient production from Tamenang Choh. Choh, who is the reigning Ivy League Rookie of the Week, has scored in double-digits in four out of his past five games.
"They gave us a handful here," Donahue explained. "The key thing is limit penetration without fouling because they're one of the best teams into the country at getting to the free throw line."
The return to New England will also provide a reunion for a couple members of the Quakers and Bears.
AJ Brodeur, Jackson Donahue, and Collin McManus all attended Northfield Mount Hermon, a prestigious prep school in Massachusetts, and were teammates together with current Brown junior, Chris Sullivan.
That experience, according to Jackson Donahue, not only made him better on the court, but off of it as well.
"The extra year of general maturity was huge," he said. "And [for my game], it helped because day in and day out you're playing with guys at your same level, so it takes your game to new heights."
"It was definitely the best decision I've made in my life," he said.
Similar to Donahue, Brodeur and McManus, Caleb Wood spent two years at Lassen Community College before transferring to Penn. On the west coast, there are fewer prep schools than there are on the east coast. For that reason, many students that would have otherwise spent a year or two at prep school end up at junior college (JuCo) instead.
"The two years I spent in JuCo I definitely got much better," Wood said. "I think I improved in every aspect of my game."
It is clear that coach Donahue appreciates having some older guys on the team after bringing in the likes of Wood from JuCo, Mark Jackson, and Matt MacDonald early in his tenure. Bringing on these types of players, he says, is about finding ways to make the team better.
"It's a unique way that we could go find one someone that the rest of the league wasn't aware of, and who fits what we're about," coach Donahue explained. "It brings a kid [Wood], that is more confident is his own game, and it helped him become a better player and it helped us become a better team."
While this team is certainly better than it was a few years ago and is in a position to win its first Ivy Championship since the 2006-2007 season, coach Donahue says the team still must use this week in order to get better.
"The team that continues to improve over the next 10-14 days in this league, is the one that will win the [Ivy] tournament," he said.
After their win over Harvard last weekend, the Red and Blue seem to be doing just that.
All comments eligible for publication in Daily Pennsylvanian, Inc. publications.