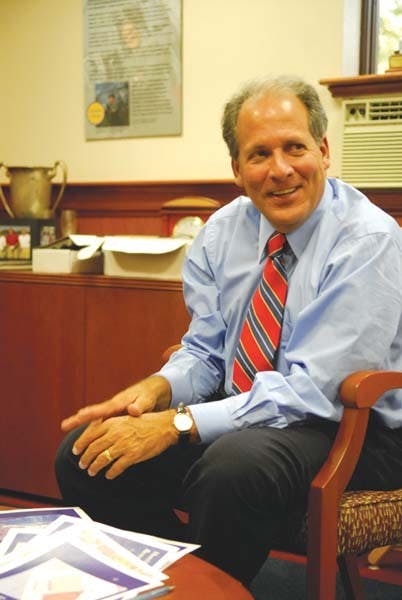 Now that it's almost over for Penn Athletics Director Steve Bilsky, where to begin?
Thursday's surprise announcement that Bilsky will retire effective June 30, 2014 has brought his sizable legacy at Penn into focus. I always appreciated Bilsky's honesty and forthrightness in interviews, so I'll cut right to the chase, too.
Bilsky's legacy is a mixed one, but his successes will last longer than his failures. Because most of his successes are made of brick, or at least have new LED video scoreboards that are too state-of-the-art to go anywhere for a while.
Facilities. It all comes back to facilities when evaluating Bilsky's legacy. The list is long — Weiss Pavilion, Pottruck Health and Fitness Center, Meiklejohn Baseball Stadium, the TSE Sports Center at Hutchinson Gym and its athletic centers for fencing, gymnastics, golf, rowing and wrestling.
Oh, and renovations.
"I think [my legacy] is the ability to create all these facilities for so many sports," Bilsky said. "And taking old facilities like the Palestra and Franklin Field, and mak[ing] them 21st-century. There are places that tear those buildings down. But that's part of Penn, you can't just let them go to neglect."
And we have Bilsky to thank for not having to endure the neglect that Princeton did, for example, in 1996 when Penn's greatest rival chose to demolish Palmer Stadium — then the second-oldest football stadium behind Franklin Field.
Instead, Franklin Field survived with a new SprinTurf field and a new 18,000-square-foot conditioning equipment space for the adjacent Weiss Pavilion.
The Palestra benefited from new chairback seating, an improved sound system, an LED scoreboard and even a Chickie's and Pete's. It's historic, modern and Bilsky's thumbprint all at the same time.
And of course, there's Penn Park. Anyone who has ever played tennis, soccer, rugby or just walked through the green oasis that is Penn Park has Bilsky at least partially to thank. And that's a fantastic legacy.
Less fantastic, however, are the win-loss records for many athletic programs under Bilsky since the turn of the century.
Programs such as men's squash and men's swimming have all struggled throughout the decade and beyond, and men's tennis, men's lacrosse, baseball, women's basketball and field hockey have each finished in the bottom half of the Ivies in conference play since 2003-04.
In fact, only eight Penn varsity programs — men's basketball, football, men's soccer, women's soccer, women's lacrosse, volleyball, women's squash and wrestling — rank among the top three Ivies in conference play for their respective sports in the last 10 seasons.
While men's basketball and football did celebrate more Ivy championships than anyone else under Bilsky, his record is dampened by his incomprehensible hire of Glen Miller — who had no prior Penn ties and went 93-99 at Brown in seven seasons — as Penn men's basketball coach in 2006.
"I thought that when we hired Glen, because of his background, I was looking for someone who could take us to not just the level we'd been at but the level beyond that," Bilsky said. "I thought he had done the best job of any coach in the Ivy League. I thought with better resources and better situations, he could take our good program and build it up. But it just shows you how difficult things are."
Penn Athletics needs to win more under Bilsky's successor. As a winner across the board, there have been far too many greater athletic directors, like Gary Walters at Princeton, who is also stepping down at the end of the academic year after 20 years of athletic directing and oversaw 214 Ivy championships to Bilsky's 71.
But even more so than Penn Athletics' ambitious $125 million fundraising campaign which wrapped up this past year, it's the green spaces and ample training equipment throughout Penn's campus that constitute the other half of Steve Bilsky's legacy. And that's the half that we can all enjoy every day. As a facilitator of facilities, Bilsky is unmatched, and that's what everyone should miss most about him.
MIKE TONY is a senior English and history major from Uniontown, Pa. and senior sports editor of The Daily Pennsylvanian. He can be reached at tony@thedp.com.
SEE
ALSO
Penn Athletic Director Steve Bilsky to retire
From the Buzz | Bilsky to retire after 20 years as Athletic Director
10 reasons to remember Steve Bilsky fondly
Comments powered by

Disqus
Please note All comments are eligible for publication in The Daily Pennsylvanian.