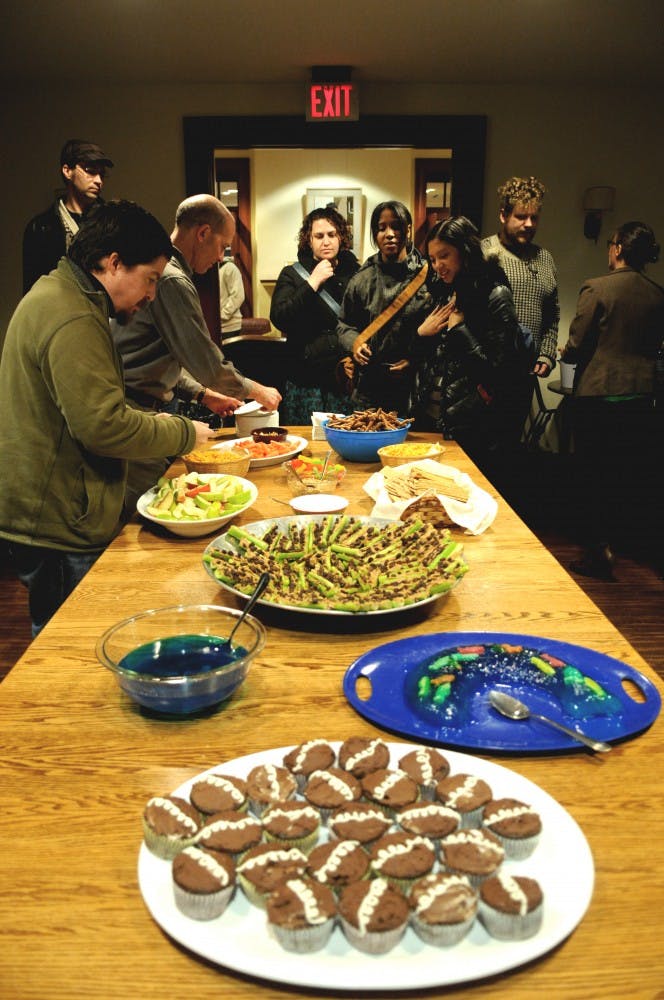 Last night, the simple lessons of children's literature found an older audience of writers and readers alike at the Kelly Writers House.
Arielle Brousse, assistant director for development at the Writers House, organized an event titled "Sensible Nonsense" to discuss the wisdom and lessons learned from children's books.
Brousse explained that she derived the event's name from Lewis Carroll's book "Through the Looking Glass." She quoted a line from one of the book's characters, the Red Queen: "You may call it 'nonsense' if you like," she said, "but I've heard nonsense, compared with which that would be as sensible as a dictionary!"
Brousse said that there is a wealth of wisdom in children's books, hidden in deceptively simple prose, and through this event, she hoped to unearth more.
Visitors gathered in a room at the Writers House in lively conversation, creating a vibrant atmosphere for the discussion. Brousse then introduced five speakers, consisting of Penn faculty, students and alumni to speak on their favorite children's books and the lessons they learned from them.
The speakers drew insightful lessons from the tales they heard as children. College sophomore Victoria Ford talked about the values she had learned from David Shannon's "A Bad Case of Stripes." This was a children's book about a girl who refrains from eating her favorite lima beans merely because her classmates didn't like them. However, she later discovers that she needed to eat them to cure a disease she had.
"This book teaches us to like ourselves," Ford observed. "Everyone on this campus is different, and through this book we are reminded not to be afraid of being different or ourselves."
Another speaker, College sophomore Isaac Kaplan, retold the stories his mother told him as a child, laughing at their incredulity while treasuring their enduring mark on his memory.
"Sometimes the stories not written in books are the ones you treasure most," he said.
Visitors responded positively to the speakers. Many among them were the speakers' friends and could identify with the things that they had said.
2011 School of Social Policy & Practice graduate Chava Spivak voiced what she hoped all the visitors would gain from sharing their favorite childhood stories.
"I hope we would look back to our roots on what encouraged a love for reading," she said.
Brousse reflected Spivak's thoughts in her remarks on her goals for the event. She hoped that "people would come away with a greater sense of appreciation and respect for the books they've loved in their own childhoods," both as works of art and legitimate fields of study.
This sentiment connected strongly with Ford's concluding remarks on the impact of children's books today.
"As we continue to become adults, we should constantly have a thirst for learning, like a child," she said. "Children's books encourage that thirst by stimulating us to be inquisitive and playful at learning more.
Comments powered by

Disqus
Please note All comments are eligible for publication in The Daily Pennsylvanian.