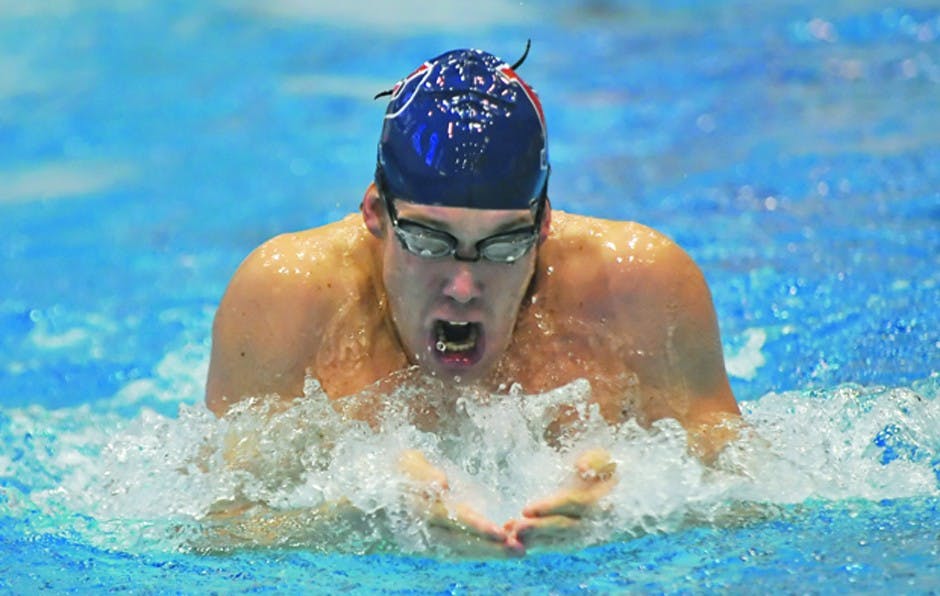 For the McHugh brothers, swimming together is nothing new.
When senior Brendan McHugh was 17, he participated on a summer swim team with younger brother Dillon, now a freshman, and his three other younger siblings. The McHugh family was represented in all five age groups, from the young 8-and-unders to the 15-18 age group.
"I'm one of five children, I'm the oldest, and all five swim," Brendan said. "I think they get better as you go down the line."
Thus it was business as usual when Dillon, who swims backstroke and freestyle, joined the Quakers squad this year. The two swam together for a year on their high-school team. Both will say, though, that it's quite a jump from high school to college.
"The difference between a 14-year old and an 18-year old is a pretty big difference," Brendan said.
On top of having to adjust to a college varsity swim team, Dillon is already seeing what comes from joining a program where an older sibling has played such a commanding role.
"Everyone looks up to him here, so they expect things from me," Dillon said.
And Brendan's career at Penn, thus far, has been nothing short of dominating. He currently holds the school record in five individual events: the 200- and 400-yard individual medley, the 100 and 200 breaststroke and the 100 freestyle.
Brendan has also been a member of four record-holding relay teams, and he beat his own Ivy League record in the 100 breast last year to reclaim a title he first won in 2009.
Dillon, however, is not overly intimidated by the number of times his brother's name appears on the record board.
"It makes me want to get my name up there too and knock his name off of a few places," the younger McHugh said.
For his part, Brendan has no plans to rest on his laurels during his senior season. He has taken his achievements into account and has created even loftier goals — Olympic-level goals.
"Individually I don't want to lose a race all year," Brendan said. "It's kind of lofty, but not that lofty. I also want to make top eight at NCAAs and place in the top eight for the Olympic trials in June."
For team goals, Brendan hopes this year's Quakers (1-1, 0-1 Ivy) can finally break into the top three at the Ivy League Championship.
"We've got the right combination of guys, we've got the speed and we've got the depth," he said. "So we've got all of the components, it's just a matter of putting them all together."
Despite his individual success, in his three years on the team Penn has never done better than fourth place at the Ivy Championships. Whether this year will be any different, only time will tell.
What is for certain, however, is that after this season, Brendan will not swim collegiately again. It is a reality of which he is all too aware.
"Twelve months from now, I'll be retired," he said. "So you have to give it everything you've got and see what happens."
Comments powered by

Disqus
Please note All comments are eligible for publication in The Daily Pennsylvanian.