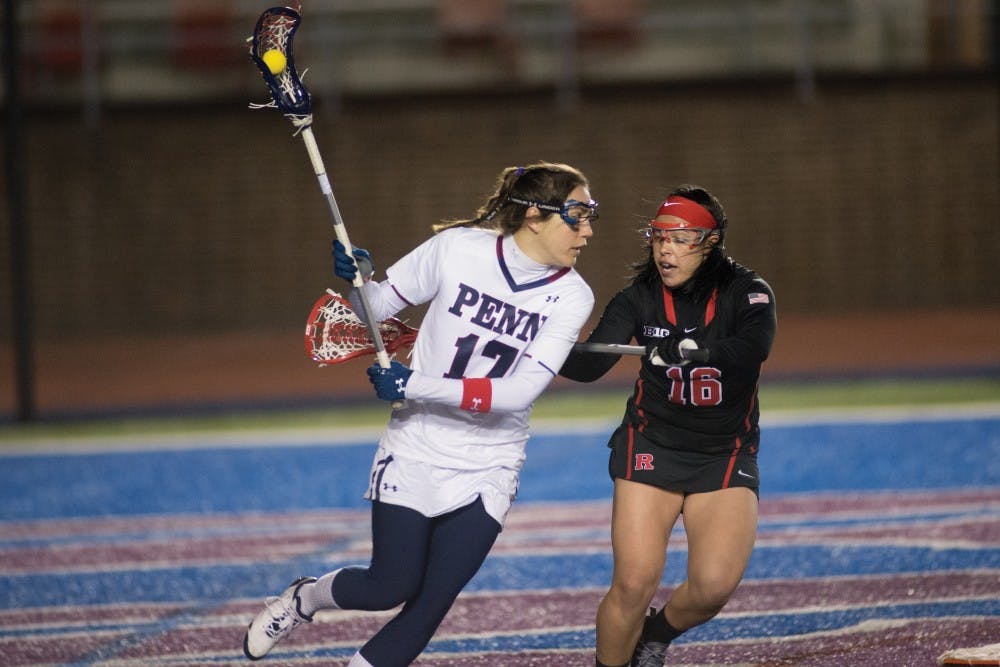 Ivy League games always pose a threat. Penn women's lacrosse has already fallen victim to an intra-Ivy upset once this year, and coach Karin Corbett is determined to never let that happen again.
On Saturday, the Quakers took down Columbia, 15-9, avoiding a potential trap game and adding another conference win to their resume in the process.
The Lions (5-7, 0-4 Ivy) have not had their best season in 2016, but they certainly came to play at a snowy Franklin Field. They kept pace with the Quakers (8-3, 2-1) for the majority of the game maintaining possession an impressive amount.
Nevertheless, the Red and Blue were not going to be upset on their home turf on the team's Senior Day celebration. It was no accident that they scored 15 goals and maintained a high-pressure attack through the waning seconds.
The first half consisted of back-and-forth scoring chances: Penn had three different four-goal leads over the course of the opening frame.
By halftime, the Quakers were up 8-4 and Nina Corcoran had already notched a hat trick. However, as has been the case this season, a four-goal lead is not a comfortable one. Just a few weeks ago, Penn faced a 4-0 deficit to 17th ranked Towson before scoring seven straight to win.
Corbett knew this and pushed her team to continue raising the bar in the second half.
"Keep attacking," Corbett said. "The main thing we did well today [was] caused turnovers in the midfield. We needed to get the ball into our offense's hands and not play a ton of defense, and I thought we did a good job of that."
With just under eight minutes left to play, junior attack Sarah Barcia gave Penn its first five-goal lead of the day while the Quakers would go onto score two more times.
Senior attack and captain Nina Corcoran would play a role in the team's final three goals and registered eight points on the day, a career high for one of the program's greats.
"Senior Day is one that you always remember so it's nice to have that as a memory," Corcoran said.
Corcoran finished the day with four goals and four assists. She is nationally recognized as a playmaker — currently IWLCA National Player of the Week — and after scoring the game-winning overtime goal against Northwestern and then picking up another four against Columbia, Corcoran can one of the nation's best all-around attackers. Regardless, Corcoran will continue to play the way she plays.
"I don't really care what other teams think about me."
This year's offense has also seen the rise of sophomore attack Alex Condon. Coming off the bench, Condon has scored seven goals in her past two games and is second on the team in goals. Her scoring streak has earned the praise of Corbett.
"I thought Alex Condon had a phenomenal game all over the field and everything she did," she said. "She's a great finisher and I thought she played really well."
Corcoran is also proud of her fellow attack and acknowledges that Condon's development and senior attack Iris Williamson's great play have helped the Point Lookout, N.Y., native's own successes this year.
"They're such good cutters, they have great sticks. Put it anywhere in their vicinity and they have a great handle so it's so fun playing with them. I feel like I can pull the trigger a lot more with certain people because they have such a good handle with the ball."
The Red and Blue face a very tough schedule for the rest of the season, with four Ivy contests remaining, three of which will be on the road. However, the team will be able to relax and celebrate its seniors in the meantime.
"I'm glad we're 2-1 but we have a tough road ahead," Corbett said. "We're enjoying this. Our seniors deserved this win. They're a great class and I'm excited that they got this win at home even though the weather was awful."
Comments powered by

Disqus
Please note All comments are eligible for publication in The Daily Pennsylvanian.