Yale University's administration has encouraged fraternities to participate in co-ed rushing for all Greek life organizations.
Associate Vice President of Student Life at Yale Burgwell Howard sent an email to the Greek community, suggesting that rush events should be open to students of all genders in order to alleviate concerns surrounding gender identity, the Yale Daily News reported.
Howard wrote in his email, however, that Yale has "no interest at this time" in changing university policy to require gender inclusivity across all university organizations.
At Penn, the Office of Fraternity and Sorority Life leaves matters of membership to the individual chapters in coordination with their national organizations. Greek groups are exempt from the Title IX gender equality requirements, meaning the national headquarters for each group can determine membership free of federal anti-discrimination claims.
Penn's chapter of Pi Lambda Phi operates as a co-ed chapter and has repeatedly petitioned its national organization to become officially co-ed at Penn, but its request has repeatedly been rebuffed, as the national organization only counts males for official documentation.
Howard's email reinforced the requests of Engender, a student-led group advocating for gender inclusivity in all-male organizations on Yale's campus. On Jan. 16, Engender reached out to eight fraternities, petitioning for a gender-inclusive rush process. Only three organizations responded to Engender's request, stating that a co-ed recruitment process was not possible because of their organizations' national bylaws.
"To be true and authentic to the Fraternity's mission and principles, the recruitment activities of a collegiate chapter are for those students of the applicable college or university who are eligible for membership," Yale's chapter of Sigma Nu wrote in a statement to Engender.
According to Yale Daily News, several fraternities canceled or postponed their rush events last weekend over concerns that members of Engender would attend their rush events.
Engender was "heartened" by Howard's email, but urged the university in a statement to make gender inclusivity in all-male organizations a requirement in accordance to Yale's equal opportunity policy.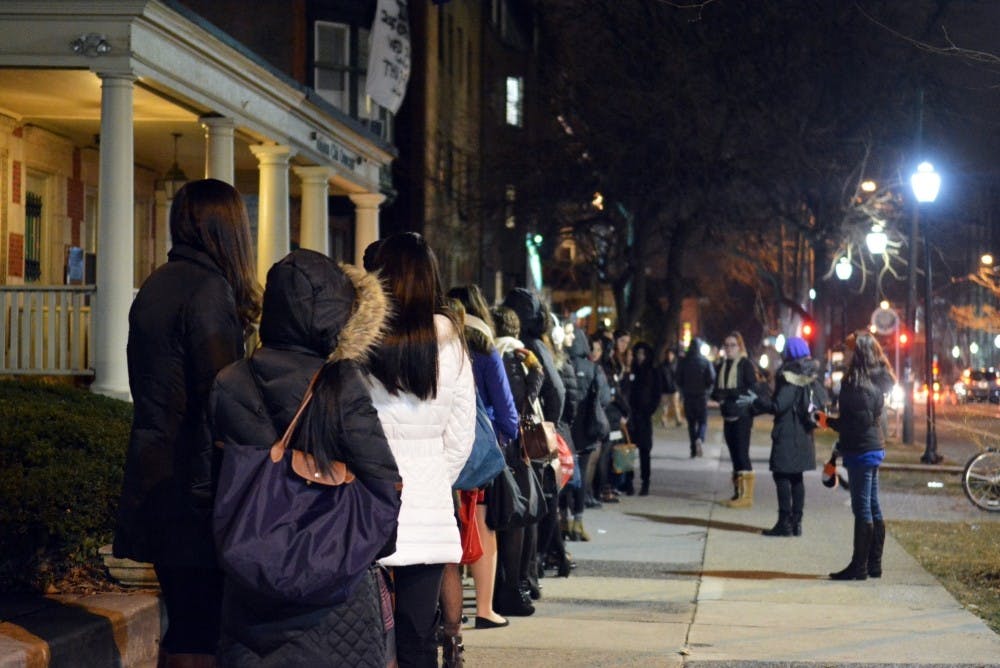 Penn currently has two co-ed fraternities, Delta Phi (St. Elmo's) and Alpha Delta Phi Society, within the Interfraternity Council, which governs on-campus fraternities. There are also a number of co-ed multicultural and interest fraternities on campus.
"Because we are co-ed, because we are already fighting this grounded culture that fraternities are for men and sororities are for women, it creates a space that's very open to challenging other aspects of what Greek culture is and means," former St. Elmo's President and 2017 College graduate Camara Brown said to The Daily Pennsylvanian.
Greek organization leaders, administrators, and transgender students told the DP that structural inequalities, slow institutional change, and cultural norms explain the lack of transgender students in Penn's Greek life.
Engender's efforts for inclusivity in Greek life at Yale comes on the heels of Harvard University's administration's call for gender-neutral Greek organizations. Several fraternities on Harvard's campus formed new groups in order to accommodate all genders in September 2017.
This move came after Harvard's Task Force on the Prevention of Sexual Assault published a scathing report, in March 2016, on all-male organizations, claiming that they promoted "misogynistic attitudes" and an atmosphere of "sexual entitlement."
Dialogue about fraternity and sorority recruitment on Penn's campus has reached an all-time high this year, among ongoing concerns about inclusivity, mental health, and sexual assault.
Last year, the Panhellenic Council added a Vice President of Diversity position to its executive board, whose purpose is to promote diversity in "multiple identifiers," including gender.
After students protested a sexually-suggestive email from off-campus organization, OZ, in September 2016, Penn administration decided to enforce alcohol and partying cutbacks for all Penn-affiliated organizations, beginning fall of 2017, under the Task Force on a Safe and Responsible Campus Community in order to prevent sexual assault.
Panhel prioritized wellness and mental health for this year's sorority rush.
Throughout this year's recruitment process, which involves female students lining up outside in the bitter cold for hours, PanHel partnered with Reach-a-Peer Helpline and Counseling and Psychological Services to provide on-site resources to alleviate stress and anxiety.
All comments eligible for publication in Daily Pennsylvanian, Inc. publications.