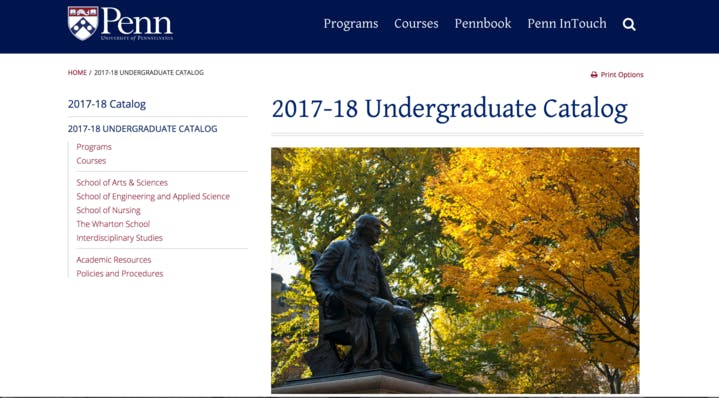 Penn is taking one of its first steps to revamp the way that students access course information.
Launched in May this year, the new University Catalog functions as an online resource for all students to browse course offerings as well as academic policies and procedures. It was produced by the Provost's office in collaboration with the Office of Student Registration and Financial Services as well as the four undergraduate schools.
The catalog contains every undergraduate course offered by the university as well as sector requirements and curricula for each of the undergraduate schools. It includes courses that aren't offered every term and lists all of Penn's majors, minors, concentrations and specializations.
It will also be archived on a yearly basis, allowing future students and alumni to compare current course offerings with those of the past.
The University Catalog previously existed as a large, physical book, but efforts to continue it ended 10 years ago. Much of its information was transferred online to Penn InTouch — an online system currently used by students to select classes and view grades — and the websites of individual schools, but had not been centralized into a single platform until now.
Prior to the creation of the new catalog, University Registrar Adam Sherr said the only similar sources of information were an academic bulletin and an old catalog, which were mainly printed and kept in the office of the registrar. These documents were not distributed to students.
In order to make the information more accessible, the University decided to create a digital and mobile-friendly version of the catalog, Sherr said.
The University Catalog currently focuses on providing information pertaining to undergraduates, but Penn plans to incorporate information from Ph.D. courses by May 2018, and information from Penn's professional schools by May 2019.
Rob Nelson, the executive director for education and academic planning in the Provost's Office, said he thought the new catalog might not actually make a big difference on how current students access information, as many of them are used to finding course information and requirements through their school websites or Penn InTouch.
"The real impact will be for prospective students and students who are curious about other schools," he said.
College sophomore Prashant Godishala, who was unaware that previous catalogs had existed, said he thought the new University Catalog would be helpful for students, both current and prospective.
"It's nice that [the information is] all located in one spot and you don't have to go back and forth between websites."
The catalog is the first in a series of updates to Penn's information systems that have been planned through the "Next Generation Student Systems" project. Other initiatives under this project include the development of a possible replacement for Penn InTouch.
"Hopefully, new interfaces for registration and viewing your grades will be on on the horizon," Sherr said. However, "we don't know what the new registration or academic planning tools will look like."
Godishala said he supported a replacement registration system for Penn InTouch.
"It would be nice to upgrade," he said. "PennInTouch is kind of old and when you sign up for classes it can be a little cumbersome"
In addition to possibly implementing a new registration system, Sherr said the registrar's office is also looking into upgrading the suite of tools used by advisors and instructors.
"All systems are under review for being updated or replaced," he said.
All comments eligible for publication in Daily Pennsylvanian, Inc. publications.