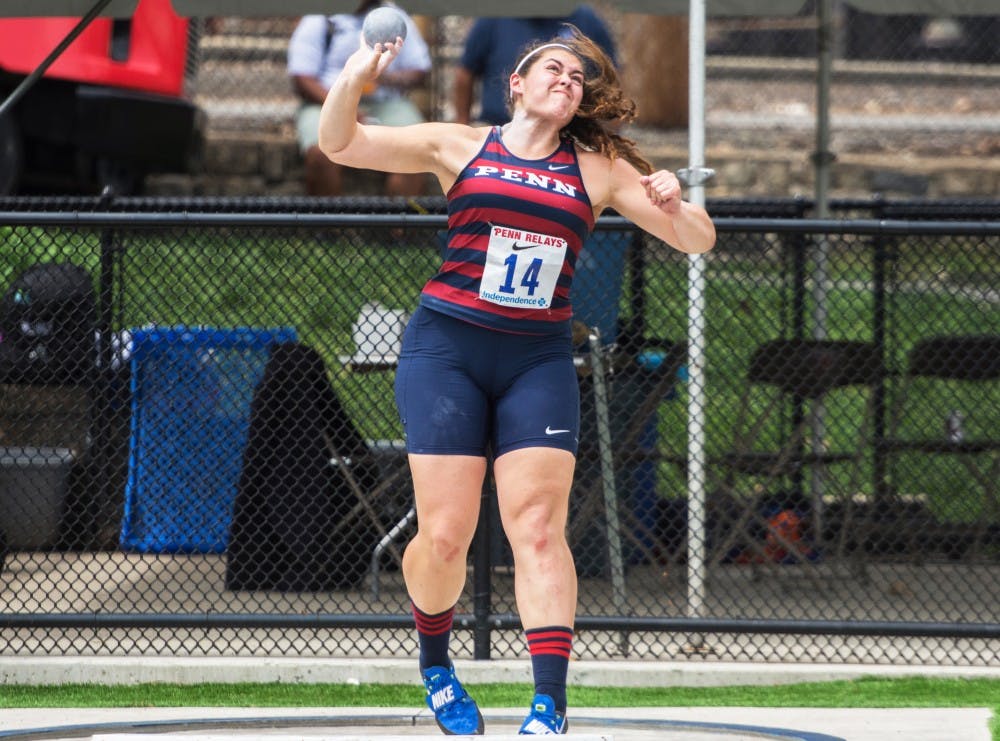 The keys to a successful season – starting fast and finishing strong.
Penn track and field has already accomplished the former and looks to keep that success going as the men and women travel to Princeton to compete in the Sam Howell Invitational this Friday.
The event, originally scheduled over two days, has been converted into a one-day event due to inclement weather conditions expected this weekend.
"The wind will probably be a challenge in some events, like the relays and hurdles, but on the other hand, there's a chance we'll see faster sprint times and some great jumps if the wind is actually favorable for those athletes," coach Steve Dolan said.
The women currently hold the No. 1 position in the USTFCCCA Mid-Atlantic Region in the first round of regional rankings for the outdoor season after strong showings in Florida and North Carolina. The men have also had an impressive start to the outdoor season, ranking No. 4 in the Mid-Atlantic Region early.
The men and women are both well-rounded teams and rely on strong performances from every athlete across the entire spectrum of the sport – sprints, distance, jumps, and throws.
"It's fun to watch the women's team especially, because we have athletes who can compete at a high level in nearly all events and everyone's gaining confidence as a group," Dolan said. "There's contributors from each class – we have a great senior class and the sophomores have been significant contributors this season as they continue to improve."
Sophomore Maura Kimmel continues to excel after a historic freshman season and has led the way for the women's throwing group this year. Her success thus far has already translated to the record books as she holds the Penn all-time records for discus (53.83 meters), indoor shotput (15.19 meters), and outdoor shotput (15.25 meters).
"I'm honored to have my name mentioned with other people I see as great throwers, and I hope to make [the records] as unreachable as the [2016 Penn graduate] Sam Mattis discus record," Kimmel said.
Mattis set the all-time Penn men's record for discuss at 67.45 meters in 2016, which is nearly 10 meters longer than second-place holder, Noah Kennedy-White, who threw 57.71 meters in the same season.
In his first two seasons as an assistant coach with the Quakers, Jeff Pflaumbaum has worked with Kimmel amongst the other throwers and has played a significant role in her success thus far through her young career.
"I have a really good relationship with my coach. He is very concerned with everyone's improvement, no matter the talent level, and he afforded me the same amount of attention and dedication even though I wasn't that good coming in," Kimmel said. "I've had great training the last two years and I've started thinking more about the mental aspect of track this season and now I'm coming into events with focus and a clearer mind.
Last season, Kimmel was able to learn under junior Rachel Wilson, who is currently fourth all-time at Penn in the discus and first in the hammer throw.
"I worked with Rachel early on because, at the time, she had the second farthest throw all-time, but she soon stopped focusing on discus to break the hammer record – which was awesome," Kimmel said.
Kimmel has now stepped into a similar teaching role with freshman thrower Ashley Anumba as they have worked together throughout the season and push one another to improve each day.
Elsewhere, senior sprinter Taylor McCorkle also continues to impress since returning from the fractured tibia she endured during the preseason. After missing the majority of the indoor season, McCorkle finished second in the 60-meter dash at the Ivy League Indoor Heptagonal Championship, helping Penn secure its first team championship since 1996.
And she hasn't skipped a beat to this point in the outdoor season.
"She's progressing very well, and she ran great in the Indoor Ivy League Championships after not racing much indoors," Dolan said. "Hopefully she will continue to gain fitness and stay healthy and have a great senior season."
The Quakers will look to push this early momentum forward and finish the season just as strong as they started.
All comments eligible for publication in Daily Pennsylvanian, Inc. publications.