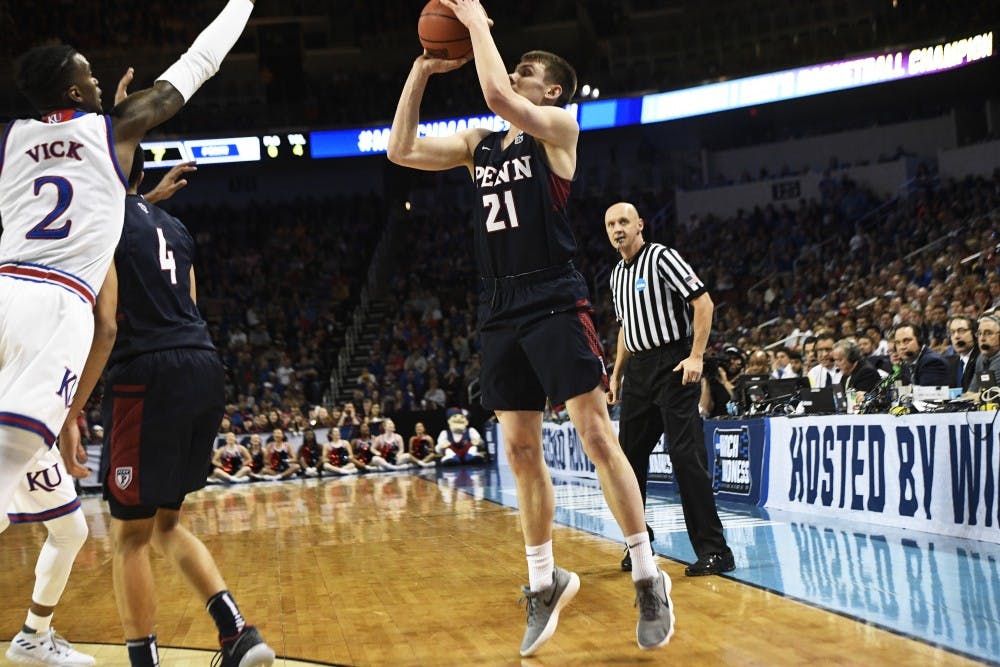 WICHITA, Kan. — They're within striking distance.
Behind a strong first 20 minutes, the Quakers trail Kansas 33-26 at the half. The Red and Blue led for most of the way, until the Jayhawks stormed back late in the half to take the lead.
For at least the first 10 minutes, the story was the Quakers' defense. Penn was relentless guarding the Jayhawks on the perimeter, refusing to give them easy looks. And on the inside, Penn crashed the boards, refusing to give Kansas second chances.
Penn executed its gameplan to a tee, and it showed on the scoreboard. With just over eight minutes to play, the Quakers held a 10 point lead. And that's when Kansas woke up.
Buoyed by an electric showing from senior guard and Big 12 Player of the Year Devonte' Graham, the Jayhawks closed the half on a 22-5 run. Graham had 15 points during the run, for a total of 19, and seemed to will each of his shots in from everywhere on the floor.
Penn's offense was its usual blend of ball movement and threes, but the Quakers struggled to maintain control of the ball. Penn committed seven turnovers, including three from sophomore forward AJ Brodeur, and all of them seemed to come at crucial points.
Still, if the Quakers can regain some of the composure they had at the beginning of the game, the final 20 minutes should be exciting.
Full recap with quotes to come after the game.
All comments eligible for publication in Daily Pennsylvanian, Inc. publications.