After cleaning up shop in Philadelphia, it's time for Penn women's basketball to hit the road once again.
The Quakers (11-5, 2-1 Ivy) are in the midst of their finest stretch of play this season, winning their past five games after a loss to archrival Princeton on their home floor in early January. Over that stretch, the Red and Blue have defeated Cornell, Columbia, and Gwynedd Mercy on their home court, and they toppled in-city foes Villanova and Temple as well.
Now, the Quakers must extend those winning ways to New England, where they play Brown in Providence on Friday and then Yale in New Haven on Saturday.
Brown (13-4, 1-3) had an impressive start to the year, winning 12 of its first 13 games. But since the beginning of Ivy League play, the Bears have struggled, losing three of four games, including a tightly contested contest against Harvard last weekend.
Despite the struggles, Brown is still an explosive group on offense, where the team boasts two bonafide backcourt scorers in Justine Gaziano and Shayna Mehta. Gaziano, a sophomore, averages 18.7 points per game on the season, while junior guard Mehta maintains a 19.6 points per game average thanks, in part, to her ability to knock down three-pointers.
For the Quakers to defeat the Bears, they'll need to contend with that dynamic backcourt.
"Brown plays a high tempo game with a lot of offense and a lot of possessions," coach Mike McLaughlin said. "Both [Gaziano and Mehta] can score and create for each other. Mehta might be the best guard in our league … We're going to have our hands full, but we've worked hard this week, especially with conditioning and putting ourselves in situations to take away some of their strengths, so we're up for the challenge."
As for Yale (9-8, 2-2), the Elis are led by senior Tamara Simpson in the backcourt, while senior Jen Berkowitz operates as a forward. Both players average over 15 points per game, and Berkowitz is equally outstanding on the glass, garnering 8.3 rebounds per game.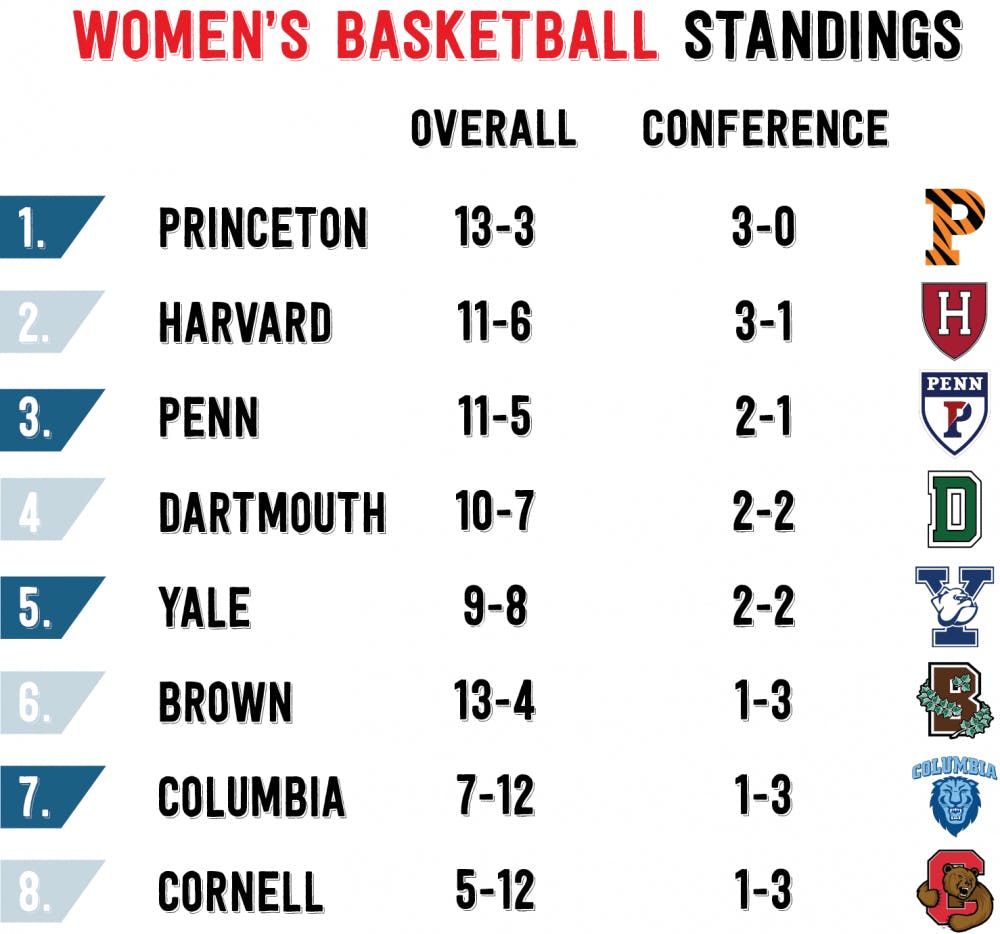 "[Yale and Brown] are similar in some ways," McLaughlin said. "Both teams play an up-tempo style … but with Yale, they have a back-to-the-basket post player in Berkowitz, so they have an added threat, and Simpson might be the best guard defender that we have in our league, so they present a different challenge."
Although the two teams have differences in styles of play, for Penn, it will all come down to one specific aspect of basketball that should carry over to both games.
"The key to the weekend is our transition defense," McLaughlin said. "We're going to have to work hard to keep both teams in front of us to win the transition battle on both ends of the floor."
To the casual observer, it may seem odd that the Quakers are playing games on consecutive nights, but such a practice is actually typical of conference play. Still, the format does present a unique set of challenges, as McLaughlin and his staff must design a practice schedule that accommodates both games sufficiently.
"We try to prep primarily for Friday's game. That's the immediate one," McLaughlin said. "We never want to jump past a team. We want to deal with the one in front of us."
The way the Quakers combat the challenge of back-to-back games is with depth. No matter what Brown and Yale throw at them, the Quakers have firepower of their own in freshman Eleah Parker, senior Michelle Nwokedi, and senior Anna Ross among others. In fact, Penn's balance has been one of its defining characteristics so far this season.
"Our strength comes from our overall team play … Our players are phenomenal," McLaughlin said. "Not one person wants the credit. They just want the team success, so that's a really good sign."
And if they continue to put the team first, the rest of the Ivy League should watch out.
All comments eligible for publication in Daily Pennsylvanian, Inc. publications.