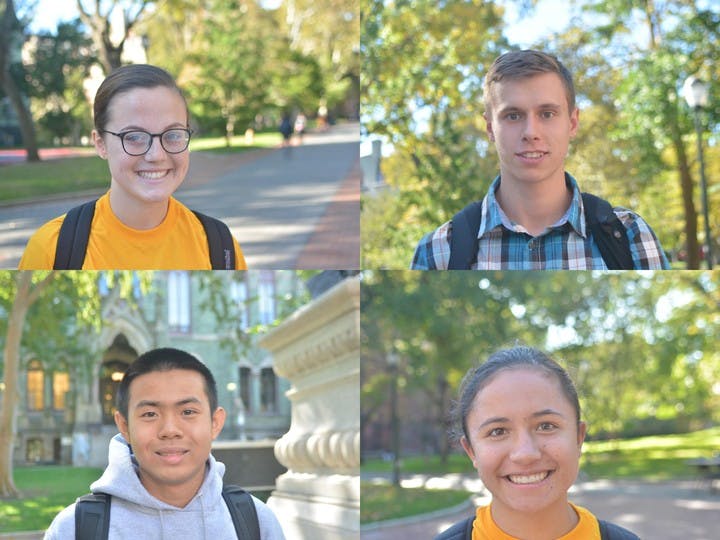 At 4:30 a.m. on a typical Wednesday most Penn students are fast asleep. But for the 32 freshman candidates in the Navy Reserve Officer Training Corps program, their day has already begun.
Unbeknownst to much of the Penn community, first-year ROTC students spend the first two-and-a-half months at Penn in a grueling initiation process called "Kilo Company."
This year's Kilo Company squad is one of the biggest and most diverse in recent years, with double the number of overall candidates as other years.
An average day for an ROTC candidate begins well before dawn, College freshman Reagan Bracknell said. On most weekdays, candidates wake up around 5:30 a.m. to attend drill and ceremony training before undergoing physical training, and conclude the morning in the classroom for naval science.
"Wednesdays are really long days," Bracknell said, adding that he wakes up at 4:30 a.m. to travel to the Hollenback Center on South Street for a morning meeting referred to as "muster." This is followed by drills and the weekly "lab" class — a segment where guest speakers present ethically complicated situations and ask the candidates to describe how they would act.
Both Bracknell and Nursing freshman Sydney Bertrand identified these weekly "lab" class as their favorite part of the ROTC program.
There are more female candidates in this year's ROTC program, including Bertrand.
"Something that interested me is that three to five years after being a Navy nurse, you become a charge nurse, which means you're the head of an entire floor," Bertrand said. "In the civilian world, that generally takes 10 to 15 years."
After graduation, ROTC members are guaranteed five years employment in the Navy. This ability to directly enter the service appealed to Engineering freshman Ethan Chaffee.
"Free college was definitely a big thing, but what I really wanted was to get into the Navy and do some cool stuff," Chaffee said.
But for many candidates, being part of Kilo Company can be too challenging, particularly when it comes to time management. College freshman Theo Yuan said he enrolled into ROTC to fulfill his dream of becoming a naval aviator, but decided it was best for him to drop out and focus on his academics.
"There would be some days I'd be sprinting down Spruce Street from the Hollenback Center to Chinese class at Williams Hall," Yuan said. "I couldn't balance ROTC and Ivy League academics, so I decided to pursue my commission in the military through other paths."
Yuan plans to enroll in Officer Candidate School, a 12-week training course that is completed after college graduation and gives the same end result as ROTC: commission into the Navy.
As the candidates enter their 11th week of Kilo Company, the end is in sight. The candidates officially become midshipmen on Nov. 3, marking their first steps towards becoming leaders in the Navy.
All comments eligible for publication in Daily Pennsylvanian, Inc. publications.