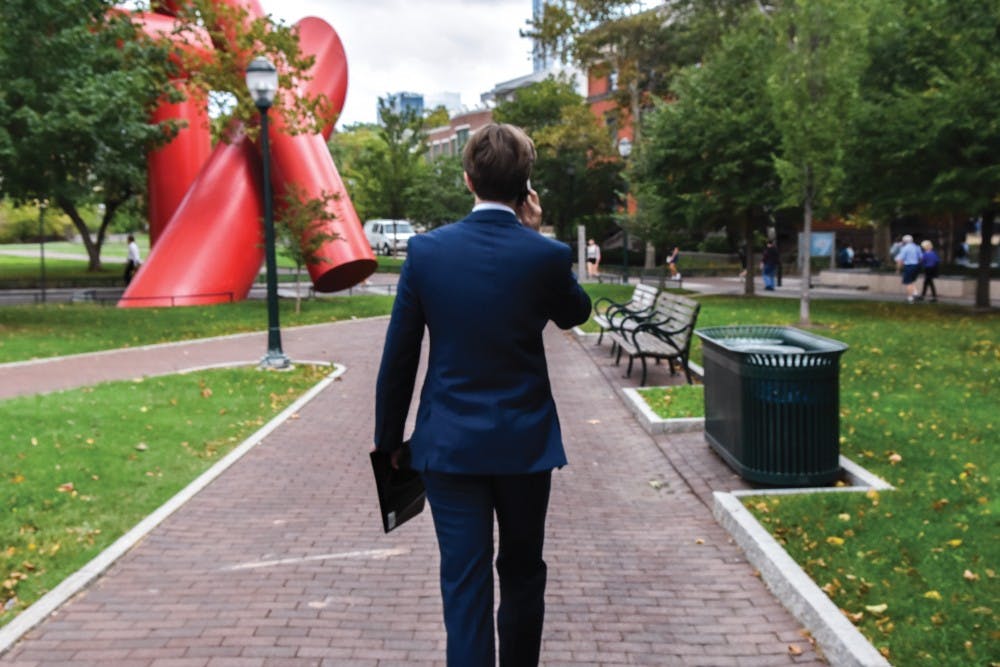 Many students at Penn think about internships in the context of the summer, but some opt for a less common route and take leaves of absence during the school year to pursue professional opportunities.
After getting rejected from the internship program at the American aerospace manufacturing company SpaceX for two consecutive summers, Engineering senior Pele Collins applied a third time for the summer after his junior year. Although he was not accepted for the summer, this time his rejection came with a note of encouragement to apply for the fall internship program instead.
Collins applied and was accepted, so he decided to take a leave of absence last fall semester to work at the company in California.
But Collins and other Engineering students who pursue leaves of absence for work opportunities often face unexpected obstacles when they choose this route.
"Even just having a break, there are taboos about that at Penn," Collins said. "People come with the mentality of 'you should either be at school or you should be at [summer] internships.'"
Leaves of absence have been a subject of controversy in recent years. In 2016, students and faculty discussed ways to destigmatize the option of taking a leave of absence. More recently, student groups, including the Undergraduate Assembly, have been working to make leaves of absences more flexible for students who want to take them.
As an international student with the Penn Student Insurance Plan, Collins had to cover his own health insurance, since PSIP does not cover those who are not enrolled full-time in classes.
Collins also faced difficulties with Student Registration and Financial Services. SRFS granted him a ninth semester of financial aid to take a leave of absence, but this was not enough for him to complete a master's degree, as he originally had planned, which required 10 semesters of financial aid. Over the summer, various students realized that Penn had decided to more stringently enforce the eight-semester limit for financial aid.
The process of applying to take leaves of absence is the same regardless of the motivating reason. At Penn, students are required to fill out a form requesting justification for the intended leave and need to receive a letter of approval from their school's academic advisors.
The University also asks that students coordinate directly with numerous different departments including SRFS, Penn Residential Services and Penn Dining Services to arrange their leaves of absence.
Rob Nelson, the executive director for education and academic planning, said that while the process is standardized for all undergraduate schools, the rigid curricula for Engineering and Nursing students can sometimes cause variation in the way the process occurs.
Director of Career Services Patricia Rose emphasized that the option of taking a leave of absence from Penn, though not very common, is supported by the department.
Engineering sophomore Jack Lanzi, who is currently on a leave of absence working for Tesla in California, also noted that the stigma against taking leaves of absences at Penn is inherently problematic.
"I think the idea of going into college thinking you know exactly what you want to do is unrealistic." Lanzi said. "Not every single experience falls into a convenient, pre-packaged summer internship."
Engineering student Colby Cox opted out of his sophomore year to pursue a leave of absence so he could work as a software engineer for the Philadelphia startup, Amino Payments. After his internship there this past summer, he received an offer to continue his work at the company, which he accepted in early August.
While Cox described the experience as hectic, it also ended up shifting his entire academic trajectory. Cox does not know when he will return to Penn, but when he does, he has decided that he wants to transfer into the Wharton School to learn about the entrepreneurial side of engineering.
Despite some issues with financing and coordinating the move that students inevitably face when taking leaves of absence, many Penn students agreed that the decision to take a leave is definitely a worthwhile one.
"It has completely changed the course of my life," Collins said. "It just opened so many other doors that were closed before."
All comments eligible for publication in Daily Pennsylvanian, Inc. publications.