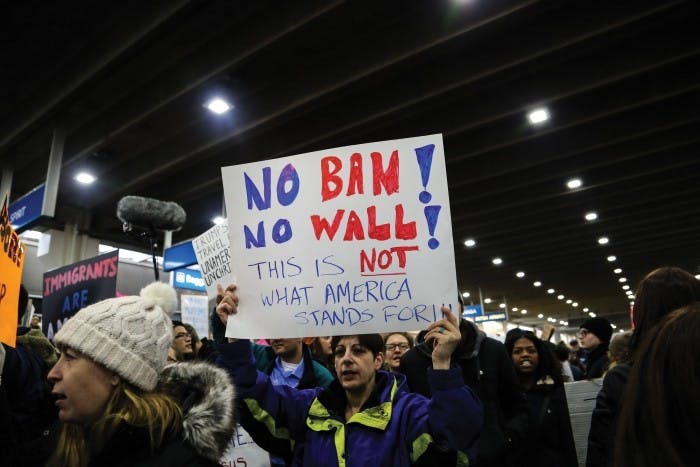 When Persian literature professor Fatemeh Shams woke up the morning of Sept. 27, she was devastated to hear that officials of the United States Embassy in Dubai had rejected her Iranian mother's visitor visa without reason, prolonging the amount of time that she has been unable to see her mother in person.
This incident came just days after President Donald Trump signed a presidential proclamation restricting travel to the United States for certain nationals from Chad, Iran, North Korea, Somalia, Syria, Venezuela and Yemen. The order was signed on Sept. 24 — the last day of Trump's revised travel ban, which had barred most foreigners from six Muslim-majority countries from entering the United States for 90 days.
When Trump's latest proclamation goes into effect on Oct. 18, Shams said that neither she nor her mother will be able to visit each other. Shams said she goes to sleep every night fearing that she won't have the opportunity to see her parents, who are in poor health, while they are still alive.
Even though the majority of the proclamation's restrictions won't be implemented until next month, Trump's announcement included a provision that called for its immediate application to nationals who are not judged to have a "bona fide relationship" with someone in the United States. An immediate family member lawfully residing in the United States is a typical example of a bona fide relationship.
Even though her mother's visa application contained solid evidence for such a relationship, Shams said officials of the U.S. Embassy in Dubai denied her visa application without opening her file and accused her mother of lying about her daughter's visa status in order to get into the United States.
"Not giving a visa to someone is one thing, treating them like the way they treated my mom is another," she said. "They mistreated her, they called her a liar, they told her, 'You're going there to stay and not come back.'"
Many other Penn students, faculty and affiliates are also dealing with the effects of the travel restrictions.
"As I read it, those who have existing F1 [student] visas are admissible," Transnational Legal Clinic Director and Penn Law School professor Sarah Paoletti said. "[However] if they wanted a family member to come visit, if they wanted their parents to come to graduation, their family members are not going to be able to get in to attend their major milestones."
Paoletti said any international students from the affected countries who wish to stay in the United States after graduation will likely not be able to do so under the ban. She added that it will probably be more difficult for nationals of the affected countries to obtain visas and pass through customs and border patrol.
"We are in the process of determining the specifics of the new ban and what it will mean for current Penn students, staff, scholars, and faculty from the named countries, as well as for potential applicants, visiting scholars and faculty recruits going forward," University spokesperson Stephen MacCarthy said in an email. "We will be reaching out to people impacted by the ban and increase advising for affected constituents."
Several affected students declined to comment, citing the sensitivity of the issue.
Chair of Penn for Immigrant Rights and College senior Pamela Fuentes Rodriguez said in an email that although no undergraduate students have reached out to her for assistance, PIR planned to meet to discuss "possible advocacy efforts" for affected students.
College freshman Roberto Kern, a Venezuelan citizen, said that he is not concerned about the ban.
Kern said he was certain the proclamation, which bars the entrance of some Venezuelan governmental officials and their immediate family members from entering the United States with certain visas, is targeted at corrupt political officials in Venezuela and not international students.
He does not believe Trump will extend the ban to include Venezuelan civilians in the future.
A Penn researcher from Libya — who requested that his name not be used because he was speaking about private family matters — said that under the new ban, his mother-in-law will be unable to enter the United States to visit his wife.
"Three years after our last visit, [my mother-in-law] developed some mental issues because she's not been able to see her daughter," he said. "She has this case where she thinks and believes that she will die before she's able to see her daughter."
He added that due to the current level of tension between the United States and Libya, he and his wife fear that they will not be able to obtain visas to re-enter the United States if they leave. He said the ban has prevented him from attending international conferences to give talks on his research, affecting his career.
However, the researcher also said that the ban is "reasonable" for Libya, as the Libyan government's lack of reliable records would make it much easier for a foreigner to pretend they are from Libya and cause destruction in the United States under a fake identity.
The researcher added that he hopes Trump will revise his policies to exclude those who have records in the United States, like himself, or Libyans who attended American universities in the past few decades and wish to return for conferences or collaborations with other researchers.
Persian Program Language Coordinator and lecturer Mahyar Entezari said that because he and his immediate family members have dual citizenships in Iran and the United States, they would not personally be affected by the ban.
But he added that under the ban, Fulbright language teaching assistants from Iran would not be allowed in the United States under State Department funded programs such as the Critical Language Scholarship Program, even though Persian is considered a critical language.
"It is highly problematic for a university to have to contend with this where the focus and energy should be on education, research, knowledge," Paoletti said. "To restrict who participates in our community because of where they're born is distressing, and I think universities will suffer."
All comments eligible for publication in Daily Pennsylvanian, Inc. publications.