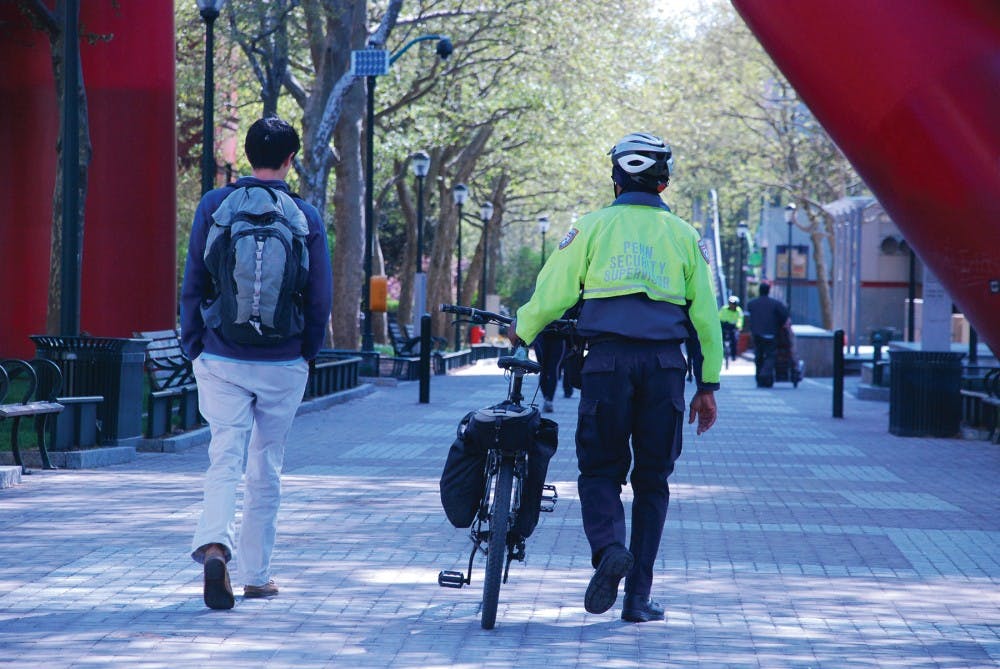 David Gordon was originally from Jamaica before he graduated from Northeast Philadelphia flight school. Today, Gordon doesn't spend his days piloting aircrafts. Rather, he works as one of the 125 patrol officers that make up the little-known safety program Penn Walks.
Penn Walks is a walking escort service that has been offered by the Division of Public Safety for the past 21 years, Director of Security Services for the Division of Public Safety Cherie Heller said. They complete around 1,400 trips every month.
Although not technically part of Penn Police Department, Penn Walks acts as "the eyes and ears of the force," Gordon said. Escorts are always in radio communication with both Penn Police and the Penn 511 Center and have the ability to call officers if the need arises.
But although the program has attempted to advertise its services through initiatives like its poster campaign partnership with the Undergraduate Assembly and the Medical Emergency Response Team last year, many students say they are not aware of Penn Walk's existence.
"I've never even heard of Penn Walks before," College sophomore Ila Sethi said. "They need better marketing because most people don't use their services."
These services include a 24 hours a day, 365 days a year escort for anyone in University City who phones the Penn Walks number, utilizes Penn's blue light system or asks a Public Safety Officer. Penn Walks covers the area between Market Street to Baltimore Avenue and between 30th and 43rd streets with extended area before 3 a.m. to 50th Street.
Students who do use the service said that they used it early in their freshman year when they were unfamiliar with campus.
"I was new to Penn and I didn't want to walk home by myself," College sophomore Rachel Liu said, after noting she didn't know anyone else who used the program. "I definitely think there's no shame in utilizing it, especially given the rise of armed robberies around Penn's campus."
College sophomore Colleen Campbell said the distinguishing factor of her Penn Walks experience in her first semester freshman year was how "friendly" the escort was — a characteristic that Penn Walks specifically seeks in possible escorts.
"We do a hiring process just for Penn Walks looking at communication skills, emotional intelligence [and] a friendly personality," said District Portfolio Manager for Allied Universal Security Services Yaya Diakite. Fourty-three percent of Allied Security officers are familiar with the area and call West Philadelphia home.
Escorts like Twanda Daniels form the backbone of the program and can work anywhere from 30 to 40 hours a week. Daniels has worked for Penn Walks for the past 20 years, following her four-year stint in the Army.
"Since I've been doing Penn Walks, I've met a lot of people and I made a lot of friends out of the deal," said Daniels, recalling a few students who would request her specifically. "I love meeting people."
Although Heller said the program has seen an "increased interest," many students remain skeptical, and often embarrassed, about having used the service. A few students declined being quoted for this article.
But Gordon maintained that Penn Walks is a "very, very important" service for Penn to have as it protects the safety of students like Campbell and Liu, who both said they would use the service again.
"It was a very pleasant experience," Liu said. "If you have those resources, why wouldn't you use them?"
All comments eligible for publication in Daily Pennsylvanian, Inc. publications.