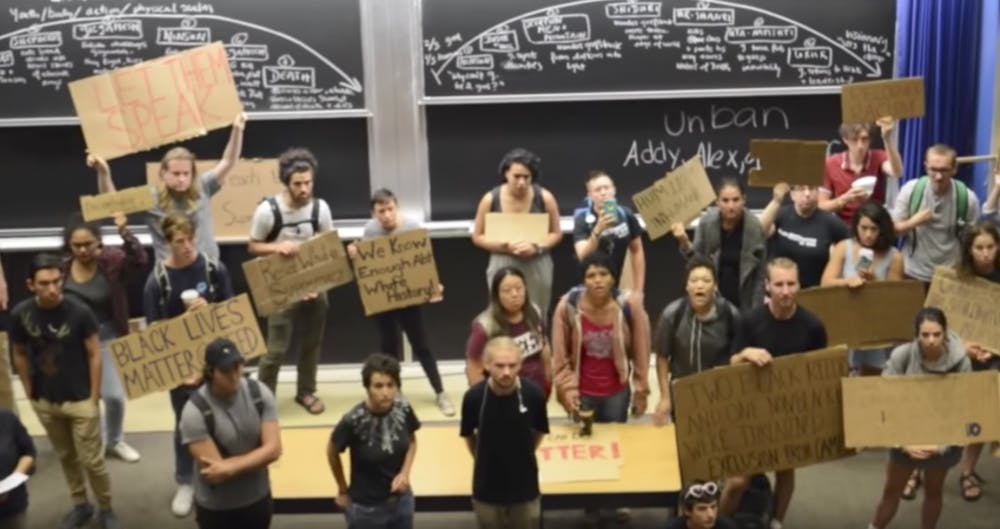 Reed College professors cancelled the first Humanities 110 "Introduction To Humanities: Greece and the Ancient Mediterranean" lecture of the school year after student protestors interrupted the class, protesting the syllabus, which they say is too Eurocentric.
On Aug. 28, members of the student activist group, Reedies Against Racism, occupied Hum 110, a mandatory first-year humanities course taught to over 300 students by over two dozen faculty across various fields. RAR denounces the Hum 110 syllabus and writes on their website that "until Hum 110 is no longer Eurocentric, it should not remain mandatory." The group attempted to introduce themselves, despite their previous agreement to abstain from interrupting teaching time and professors' denial of their request to do so. Following RAR's interruption of class time, professors canceled the lecture and left the room, Inside Higher Ed reported.
Two days later, on Aug. 30, members of RAR arrived at Hum 110 early in order to introduce themselves and speak about their objections of the course. Both faculty and a few students voiced their disagreements with the group and an argument broke out, until the start of class at 9 a.m.
Lucía Martínez Valdivia, an assistant professor of English and humanities at Reed, whose lecture was canceled on Aug. 28 due to the protestors, provided a different perspective from RAR's, saying that Hum 110 "perfectly captures the importance of origins and instability to what we do as scholars and students, regardless of the disciplines we pursue."
Hum 110 is a class that has sparked much debate on Reed's campus. Throughout last year, RAR surrounded lecturers in each Hum 110 class in silent protest and has announced plans to continue to do so throughout this year. The Reed Magazine wrote that the Hum 110 faculty has been working to re-structure the course with students' help and that changes, if any, will go into effect in fall 2018.
Hum 110 Program Chair and the John and Elizabeth Yeon Professor of Spanish and Humanities Elizabeth Drumm was quoted in the magazine saying, "Students have been very effective in getting their concerns on the table. We're working hard to address these concerns –.- maybe not as fast as everyone would like –.- but we are making progress."
Similar dialogue regarding Eurocentric values is present in universities across the country, including at Penn. Recently, Penn Law School professor Amy Wax published an op-ed entitled "Paying the price for breakdown of the country's bourgeois culture," and in an interview with The Daily Pennsylvanian said that Anglo-Protestant cultural norms are superior. Her article has continued the debate and dialogue on campus surrounding the topics of inclusion and Eurocentricity.
All comments eligible for publication in Daily Pennsylvanian, Inc. publications.