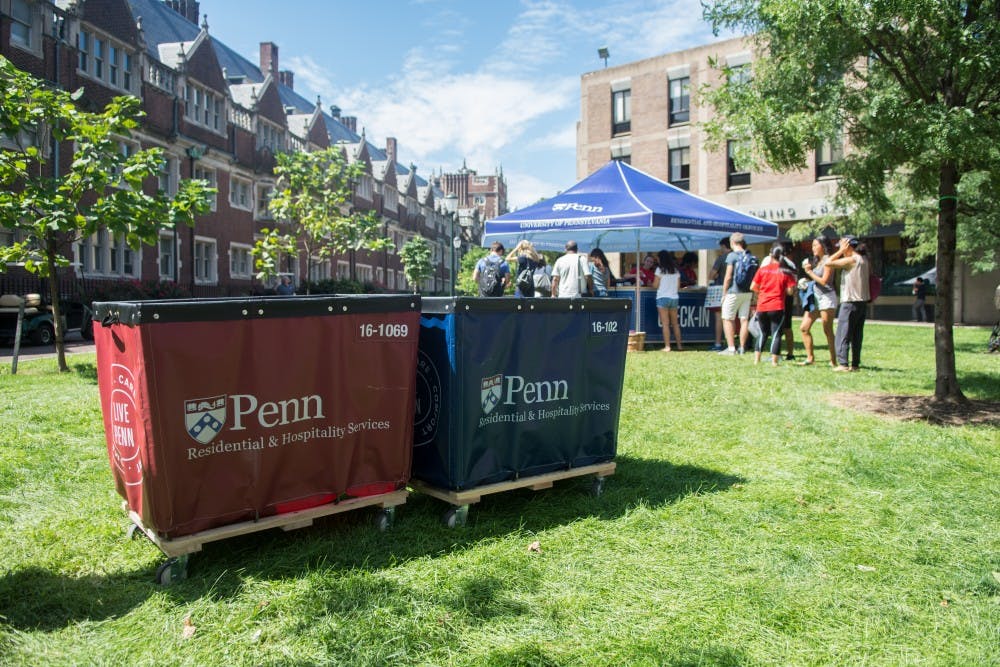 With a week of classes done and dusted, most freshmen are gradually settling into their new homes on campus. For international students, however, this process has posed additional hurdles.
When she first arrived on campus last year, Wharton sophomore and Australian-native Tammy Tan instantly noticed how her experience differed from her American peers. While many American students drove up to campus with cars stuffed with their belongings, Tan arrived on campus alone with only two suitcases in hand. Because she could not pack any sheets or decorations inside her suitcase, Tan said her room looked like a prison cell on the night of move-in.
Many international students at Penn have experienced something similar. Thirteen percent of the class of 2016 is international students. In the fall of 2016, Penn had a total of 4,859 international students enrolled at all levels.
"It's really funny when you carry suitcases that are specifically designed to endure a very long flight and see families carrying little drawers or a nightstand or little furnitures," said College and Wharton sophomore Eva Zhang, who lives in Beijing. "[This is] not something you would bring directly from the airport to your dorm."
Even after moving in, international students often find that they have cultural barriers to overcome when trying to meet new people.
Engineering freshman and Lebanese student Maher Abdel Samad said coming from a racially homogenous country adds difficulties to meeting students from different racial backgrounds.
"I feel like here you have to tiptoe your way around some conversations because you're just always scared of offending someone," Abdel Samad said.
International Student Social Orientation, which is available to all international students, helps with some challenges that come with adjusting. Tan said she remembers finding ISO helpful on the day of move-in, primarily because they organized a trip to CVS. She said that she was amazed when she discovered CVS because in Australia, food and pharmacy goods are sold separately. Some U.S. products also don't have exact counterparts to those overseas.
"I was not familiar with stores and the products," Tan said. "In the U.S., nobody uses laundry powder. Everyone uses liquid or suds."
Some freshmen who moved in during the first days of ISSO, which took place prior to New Student Orientation, said they needed more time to buy supplies and to set up bank accounts and phone numbers — tasks that their American peers do not have to concern themselves with.
Abdel Samad said many international students rent hotel rooms in advance of their early move-in time in order to complete these tasks.
"You need to come at least four days before move-in because if you don't, you won't have enough time to set up your stuff," Abdel Samad said.
For the first time this year, Penn set the move-in date for international students to two days prior to NSO. Engineering senior and Assembly of International Students President Dhruv Agarwal said that while this is an improvement from last year —when international students could move in only one day before NSO — it still does not compare to some of the early programming for international students at peer institutions.
Yale University and Dartmouth College provide four days of this programming, while Brown University, Princeton University and Columbia University provide three. International students at Harvard University and Cornell University do not arrive early for special programming.
AIS is continuing to work with Penn to improve move-in for international students by allowing them to arrive even earlier to campus for programming.
"Right now this is the first year at Penn that they've managed to get it down to 48 hours," Agarwal said. "We're working with the administration to make sure that's longer."
All comments eligible for publication in Daily Pennsylvanian, Inc. publications.