A small minority of undergraduate students end their summer break even earlier than the University requires, heading back to campus before the official, full-service move-in dates, which are Aug. 22, 23 and 26.
While early move-in can mean less rush, the majority of students do not choose to move in early. Those who do often only do so because of their extracurricular commitments.
There are 5,939 students living on-campus this semester, and 1,111 of them, both incoming and upperclassmen, moved in early into their residential dorms: 455 on Aug. 19, 536 on Aug. 20 and 120 on Aug. 21.
In contrast, over 2,000 students moved in during the official move-in dates, with around 700 incoming students arriving on Aug. 22 and more than 1,400 arriving on Aug. 23, said Barbara Lea-Kruger, director of communications for Penn Business Services.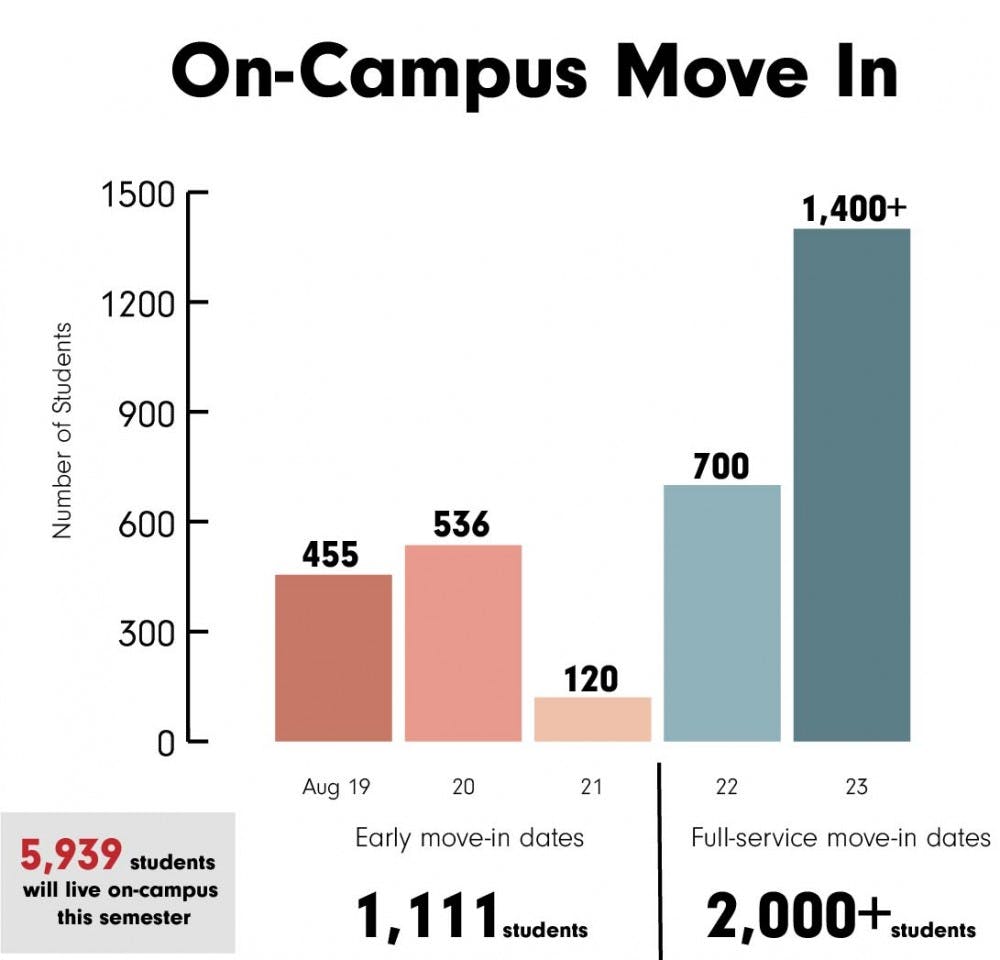 The move-in dates for new students, who are required to attend orientation, are Aug. 22 and 23, or even earlier for those sponsored by pre-orientation programs such as PENNacle, which is designed "to give incoming students the chance to learn about the many forms of student leadership at Penn."
2017 PENNacle participant and Engineering freshman Katie Shia moved in on Aug. 20 and said she liked moving in early even though she was the only one in her hall.
"I can't imagine moving in on the 23rd with five times the amount of people," Shia said, "It's super nice to have all my stuff in without the overwhelming rush of a ton of other people."
Even without NSO, upperclassmen occasionally decide to arrive early to campus. For those living in on-campus housing, students have the option of moving in as early as Aug. 20 or an even earlier date, if sponsored by an organization.
For example, members of athletic teams such as women's soccer are required to be on campus for preseason. Students who volunteer to help out with move-in are also sponsored to move in early themselves in exchange for their help.
For upperclassmen who don't get sponsored, the benefits of early move-in come with the cost of per-night charges, prorated against the student's fall rent. Some students said they felt as though the benefits of moving in early did not outweigh the costs, monetary or otherwise.
Early move-ins are, as Penn Residential Services' website states, "self-service." The website states that "carts may be available in limited quantities and for limited periods of time," but that "College House staff availability may be limited" during these early arrivals.
Wharton sophomore Cayley Kong moved into Stouffer College House early last year for her program, Stouffer Outdoors, and found it challenging.
"It's more difficult without the carts and extra people there to help me," she said.
All comments eligible for publication in Daily Pennsylvanian, Inc. publications.