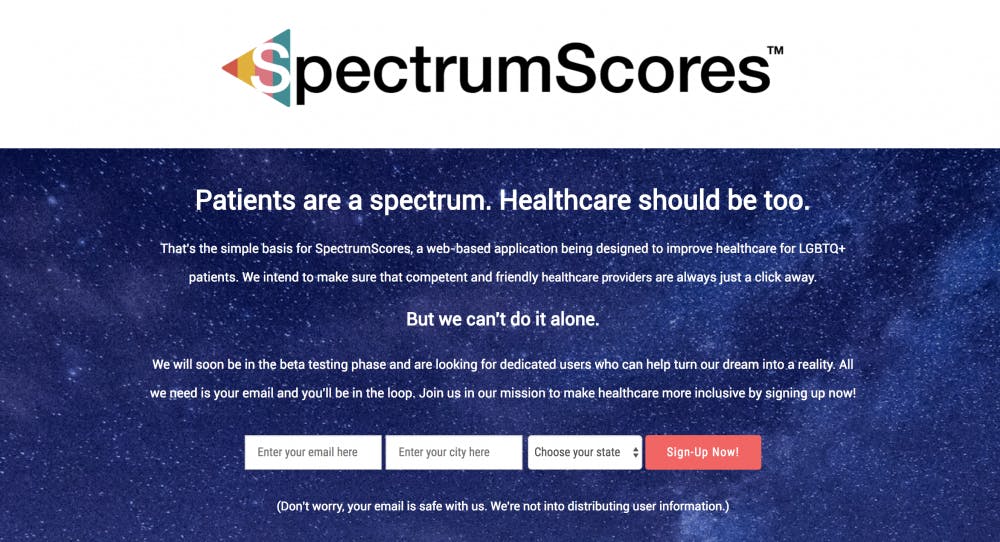 When second-year Medical student Phil Williams told his doctor that he was gay at the age of 11, he was referred to a mental health care provider.
The experience inspired Williams to create an application called SpectrumScores, which is designed to connect LGBTQ patients with health care providers who do not discriminate against or judge patients based on their sexual orientations or gender identities. This information will be provided through advocacy groups, medical centers and eventually, app-users themselves.
Williams worked on the app with two other second-year Medical students, Jun Jeon and Naven Jain.
"We envision building a community where LGBTQ+ patients can leverage their experiences so that nobody has to feel left in the dark anymore when it comes to healthcare," Williams said.
The app allows users to search, rate, and review health care providers based on four different categories: a welcoming environment, inclusive policies, LGBTQ specific knowledge and an aggregation of the three rankings.
"SpectrumScores isn't just an app, it's a mission," Jeon said. "Accessibility to proper healthcare is a fundamental human right, no matter where you lie on the spectrum."
The app is expected to be released in select cities including New York, Philadelphia and Chicago, with plans underway to expand across the United States.
All comments eligible for publication in Daily Pennsylvanian, Inc. publications.