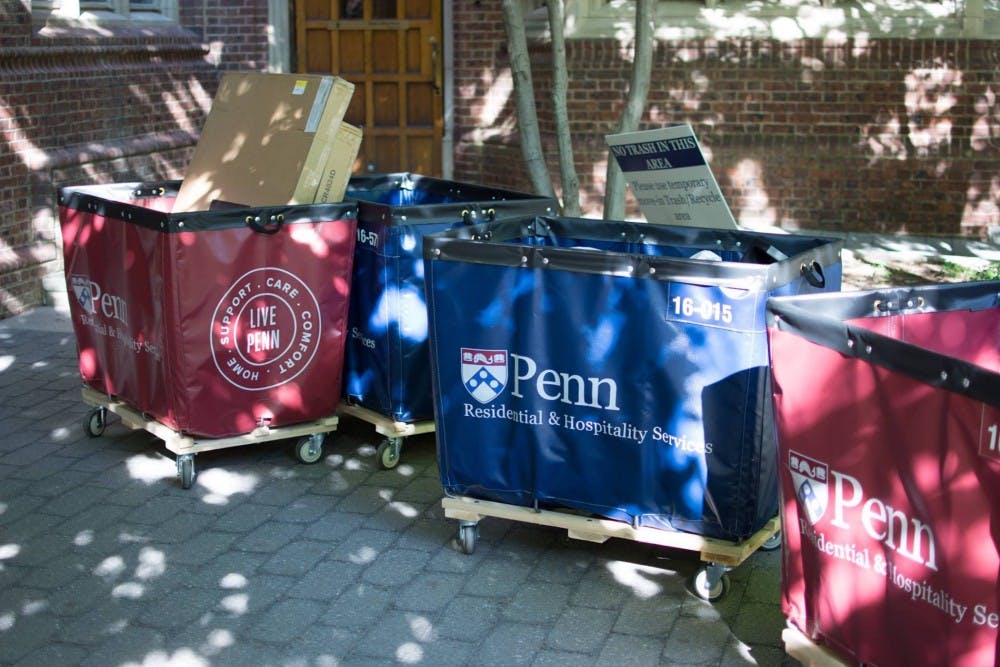 Anxious freshmen clustering on the sidewalk outside the Quad as move-in staff load their suitcases and boxes into one of the 1,200 bright blue and red wheeled carts — this is a scene many upperclassmen will remember as one of their first moments at Penn and also one that will occur all over campus this week.
But what work actually goes into move-in? For Penn Residential Services, it's a large operation that they plan for throughout the year.
"The scope of thought that goes into planning our move in is very high," Associate Director of Operations Dennis Daly said. "I start sending out calendar invites for Move-in 2018 in the first couple weeks of September."
While the University is responsible for setting the dates for move-in, it is up to Penn Residential Services to work out the logistics. They're in charge of gathering volunteers, setting up move-in times and creating parking and drop-off plans.
The move-in process relies heavily on its strong team of volunteers and organizers. This year, 115 student volunteers and 30 paid student coordinators were selected from Residential Services' application and interview process. An outside move-in company, University Student Services, helps the student team with employees that manage traffic and help unload cars.
"They do all the same things that a move-in company would do," Daly said. "Just because we can't necessarily have students out there directing traffic."
Upperclassman leaders in Penn Helping Incoming New Students, which organizes NSO events, help out in the move-in process as well, along with many athletic teams, which often ask members on campus to help out.
"It's really exciting to go into the Quad and see all the different kinds of rooms because everything has a totally different layout," said College senior Lauren Murski, a member of Penn Swimming and Diving who helped students move in during her sophomore and junior years. Murski estimated that about a third of the team shows up to move in and are typically stationed at the lower Quad, which can be difficult due to the lack of elevators.
"[I volunteered] to provide people coming for the first time to Penn a smiling face, and let them know that this is an amazing university," College junior and student volunteer Luis Rosario said. "I wanted to be that person for people coming to campus this semester."
There are also services on campus to help upperclassmen move in, but Daly said they're not as comprehensive because many upperclassmen don't actually move in on the official move-in day. Instead, they often sign up to move in early to see friends or wait to move in until after classes start.
Residential Services relies on student feedback to tweak move in year to year. After receiving negative feedback about the cardboard boxes which used to be used for move-in, Penn Residential Services switched last year to the red and blue rolling carts, Daly said.
All comments eligible for publication in Daily Pennsylvanian, Inc. publications.