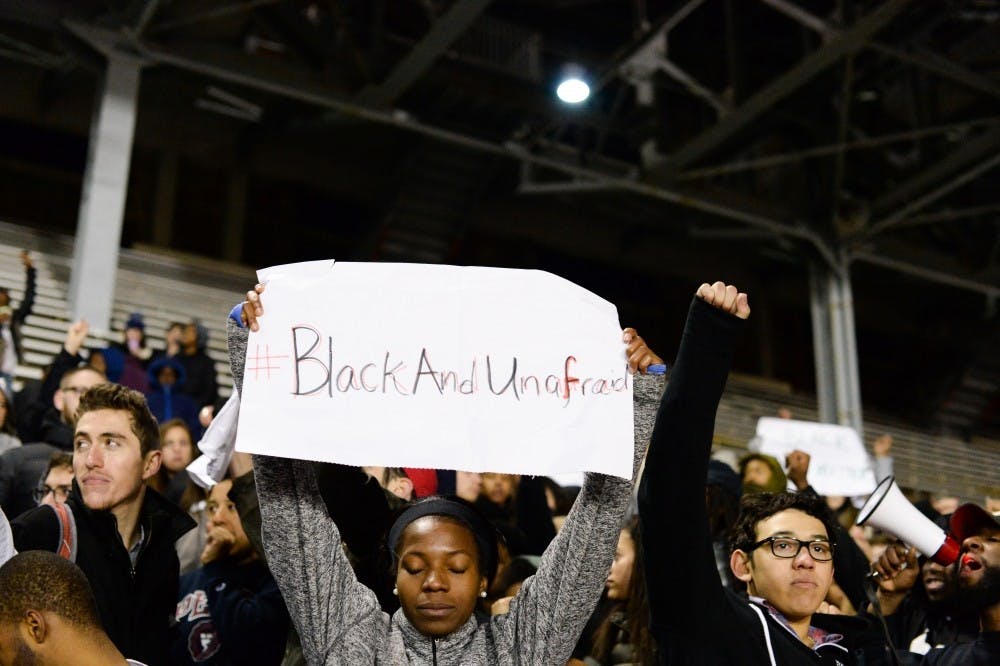 After a racially tense year — both nationally, in light of the recent events in Charlottesville, Va., and locally, after a racist GroupMe incident targeted black freshmen on Penn's campus — black students at Penn feel hopeful that the appointment of Wendell Pritchett to the position of Penn's provost is a step in the right direction.
Pritchett is the first black provost in Penn's history and formally took office on July 1 of this year, replacing former Provost Vincent Price who has gone on to become president of Duke University. A Presidential Professor of Law and Education at Penn Law School, Pritchett has spent his career studying urban policy and race relations.
College junior Mariama Diallo, the chair of Students Organizing for Unity and Liberation, said she felt hopeful about his appointment, noting that Pritchett's research seems to indicate that he cares deeply about the black community.
She added that Pritchett has a lot of work to do when it comes to improving the experiences of black students at Penn.
"I think [Pritchett] needs to work on bettering the relationship between black Penn and the University because we don't have the best relationship," Diallo said. "We don't like going to the administration for things because we can't depend on them."
"It's nice to have a black person [as] the provost but it doesn't matter if he doesn't do anything for us," she said.
The Office of the Provost did not respond to requests for comment.
Wharton senior and UMOJA Co-Chair Briana Johnson said having a black provost gives the black community a sense of security that the issues affecting the lives of black students will be addressed. In November last year, numerous black freshmen were added to a GroupMe chat group that was rife with racially explicit and violent content.
"I think it's a good opportunity for students of color at Penn to have someone in an administrative role being dedicated to amplifying our voices, as well as someone who sets the example for other universities on how to find talent and people within the University that are deserving of roles like these," Johnson said.
In an emailed statement to The Daily Pennsylvanian, Brian Peterson, who is the directer of Makuu, Penn's black cultural center, said he felt a sense of pride from Makuu when Pritchett was appointed as provost.
"[Pritchett's] exceptional track record at Penn, in Philadelphia and at Rutgers-Camden allows our students to envision what's possible for their own futures," Peterson wrote, adding that he was personally inspired by Pritchett's "previous work and passion for public education."
Some students, like Johnson, said Pritchett's appointment symbolizes Penn President Amy Gutmann's dedication to diversifying Penn's leadership, while others like Wharton senior Sydney Rodriguez, believe this appointment has been long overdue.
Penn began a diversity initiative in 2011 with the goal of recruiting and maintaining a more diverse faculty body, but little has changed since then statistically. According to Penn's diversity facts for fall 2016, only 3.8 percent of faculty at Penn is African-American or black compared to 7.3 percent for undergraduate students.
"Faculty diversity is an issue that never seems to go away at Penn," Rodriguez said, "and now we have someone who can push it or help it get better."
Rodriguez stressed the importance of having a black provost, noting that "any change or resources brought to students at Penn has always come directly from black administrators."
"Thinking of the history of activism at Penn," Rodriguez said, "I think [the appointment of] the black Provost is one of those small victories that we as activists can pat ourselves on the back for doing."
All comments eligible for publication in Daily Pennsylvanian, Inc. publications.