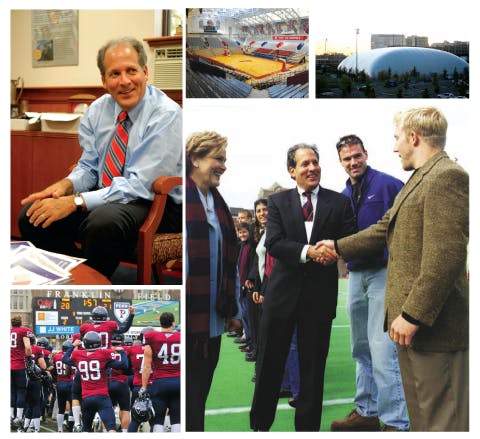 A new era of Penn Athletics is coming sooner than expected.
President Amy Gutmann and Provost Vincent Price announced Thursday that Penn Athletic Director Steve Bilsky will retire effective June 30, 2014. Bilsky took over effective July 1, 1994, giving him an exact 20-year tenure as athletic director at his alma mater. Penn will soon announce the formation of a consultative committee to guide the selection process for Bilsky's successor.
Bilsky confirmed after the announcement Thursday evening that he had wanted to wait to announce his retirement until after Penn Athletics celebrated its $125 million Making History fundraising campaign during Homecoming Weekend.
"I've told coaches over the years who've retired who have been here for a long time that it's better to do it a little too early than a little too late," Bilsky said. "Basically, I used that same advice to me. I mean I love the place, I love the job. I certainly could've done it longer, but now seems like the perfect time to turn it over."
Under Bilsky, Penn Athletics ambitiously renovated its existing facilities and constructed new ones, adding Vagelos Field in 2013, Penn Park in 2011, Rhodes Field in 2002 and Meiklejohn Stadium in 2000.
"Watching him as he transformed that campus in terms of its facilities, in terms of setting the foundation for a financially stable and thriving athletic program, he leaves an incredible legacy for that program on a number of levels," said 1978 Penn basketball grad Stan Greene, now a member of the Penn basketball board. "It's kind of like a part of me that's gone."
Bilsky also oversaw the creation of 10 endowed coaching positions and oversaw the Weightman Fund —Penn's annual giving fund – from $500,000 to over $4 million.
"He was a good fundraiser. He was very diplomatic, very fair," said H. Kell Yang, a 1972 Penn grad and substantial Penn basketball donor who gave his namesake to the LED scoreboard at the Palestra. "He was always engaged with the alumni."
Under Bilsky, Penn football and men's basketball won more than any other program.
"After a 20-year relationship, I will certainly miss Steve," Penn football coach Al Bagnoli said in a statement. "He has been a tremendous supporter of our football program and our entire athletic department. His guidance, vision, leadership and commitment to our student-athletes and coaches have been extraordinary."
A 1971 Wharton graduate, Bilsky was an All-Ivy guard for Penn basketball from 1969-71 and served as executive director of athletics and recreation for George Washington from 1983-94.
"I owe Steve Bilsky a huge debt of gratitude," Penn men's basketball coach Jerome Allen said in a statement. "Four years ago, he took a huge chance and entrusted me with the opportunity to serve as the head coach of a program that he played in, that I played in, and that both of us — along with so many others — hold dear to our hearts."
Bilsky has defended Allen from criticism as his program has struggled in the last few seasons, including throughout a 9-22 season a year ago. Bilsky was roundly criticized by Penn basketball supporters for hiring Glen Miller in 2006 to replace Fran Dunphy as coach. Miller went 45-52 overall in three plus seasons.
"There's things that you can predict, and there's things you can't predict, and once they kind of spiral badly, you just kind of have to make the change and go forward," Bilsky said of the Miller hire.
Despite Penn football's continued success, other Penn Athletics programs have struggled in competition during the last decade. Penn men's tennis, men's lacrosse, baseball, women's basketball , field hockey, men's squash and men's swimming have each finished in the bottom half of the Ivies in conference play.
Penn finished last among Ivy League schools and 102nd out of 221 Division I schools overall in the 2012-13 standings for the Learfield Sports Directors' Cup, a measure of collegiate institutions' overall athletic success for a given year. Penn has won 71 Ivy League championships under Bilsky, while Princeton has won 214 Ivy titles under Princeton Athletic Director Gary Walters, who has also directed Princeton Athletics since 1994 and will step down at the end of the academic year.
"Steve has been a great leader of Penn Athletics and a staunch supporter of the Ivy League model," Walters said in a statement. "As an AD counterpart for 20 years and a fellow point guard, I'm happy to be in his company as we step aside. Though we are both left-handed, let it be known that I am indeed taller, have more hair, am a native Pennsylvanian and have no idea where Long Island is located — nor for that matter a golf course!"
A native of Roslyn, N.Y., Bilsky won't be hands-on in choosing his successor.
"The successor, you're not involved in that, you don't want to be," Bilsky said."Where I'm involved in is the global challenges, what lies ahead. I have a great relationship with the provost so we talk about those kinds of things, but when it comes to checking and selecting people, that's their call.
"If you're looking for milestones or markers, you know, 20 years is a hell of a run."
SEE
ALSO
Tony | Bilsky's successes as AD endure longer than his failures
From the Buzz | Bilsky to retire after 20 years as Athletic Director
10 reasons to remember Steve Bilsky fondly
Comments powered by

Disqus
Please note All comments are eligible for publication in The Daily Pennsylvanian.