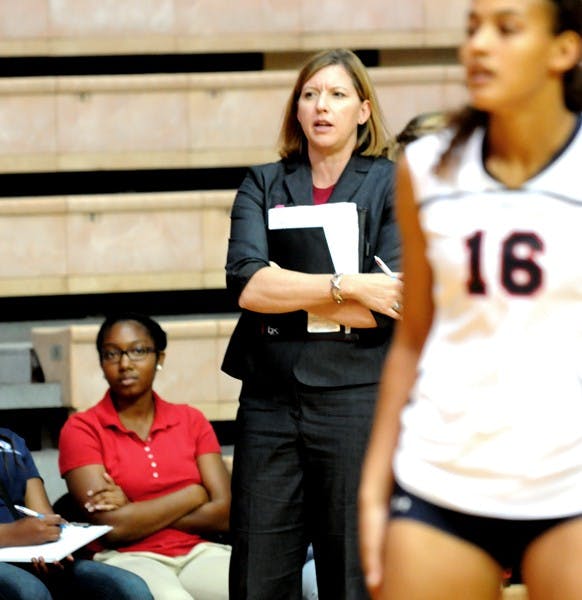 Cancer is a word that hits home for many.
For Penn volleyball coach Kerry Carr, it hit home back in 2008 when she was diagnosed with breast cancer.
Carr then told her team that she would be missing the rest of the 2008 season to fight her cancer, which had been found early enough to stop.
After Carr's recovery, she received an email from Pete Zeitz, an energy manager at the Hospital of the University of Pennsylvania, encouraging her to join a breast cancer survivor dragon boat team,
Against the Wind. Zeitz, whose wife was already a team member, knew Carr was as competitive an athlete as they come, so it wasn't hard for him to convince her to start dragon boating as a way to get back into shape.
After joining Against the Wind and falling in love with dragon boating, Carr joined another team in 2009 — Premier.
"I tried out for the team and made the breast cancer survivor squad, after I made that squad I found out they had a premier competitive crew that competed nationally and went to the world championship." Carr said. "So I tried out for that team and made that crew as well.
"Being a coach, I'm a very competitive person, so I want to be on the best crew with the best athletes in the world, so to be selected for the Premier crew is something I'm very proud of."
The Premier crew lives up to its name. Carr's Premier team was a top five crew in the nation three years ago, and this year it entered the Club Crew National Dragon Boat Championship in Mercer Lake, N.J., as the top team once again.
Carr led Premier to a first-place finish in her individual race, helping the entire crew to a silver medal overall. The silver medal in turn gave Premier a high enough score to be named one of the three crews representing the United States at the 2014 Club Crew World Championships in Ravenna, Italy.
Carr considers the members of both Against the Wind and Premier to be family.
"They're both so different, there's different people … There are four of us who paddle on both crews and the four of us are the closest because of that," Carr said. "The breast cancer survivor crew is the reason I fell in love with dragon boating, they have this special inner strength no matter what their age or physical ability that is unparalleled to a normal athlete."
"It's great having such a competitive coach," sophomore outside hitter Jasmine DeSilva said. "It just means she pushes us that much harder. We try harder in practice every day because we know how passionate coach is about winning. It rubs off on us. It makes us want it that much more."
The tentative date for the Club Crew World Championships in Italy is September 2014, right in the middle of volleyball season. So Carr will be unable to compete unless the date is moved back to July, the usual month for the championships.
"If I'm not able to go this year, then I'll go out for the World Championships in 2015," Carr said.
Regardless of Carr's availability for the next World Championships, she is already grateful for dragon boating having made her a better teammate, athlete, coach and person, and for getting her in the best shape of her life.
"[Premier] is the crew that wakes me up at 5:00 a.m., to train or to lift weights, to be a better athlete," she said.
SEE
ALSO
Penn volleyball breaks streaks in a split Ivy weekend
Penn volleyball bounces back against Cornell
Penn volleyball falls short in five-set affair at Columbia
Will growing pains pay off as Penn volleyball gets feisty?
Comments powered by

Disqus
Please note All comments are eligible for publication in The Daily Pennsylvanian.