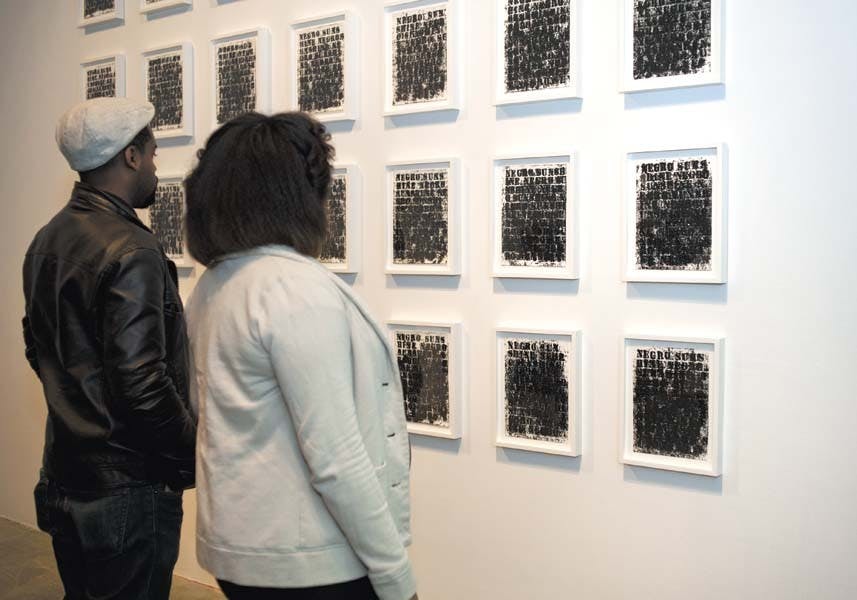 The room is dark, with a black-and-white film playing on one wall and a series of prints on the other. There's a quiet, unfamiliar recording playing in the background. This is not a typical final project.
The exhibit "Each One As She May: Ligon, Reich, and De Keersmaeker" in Penn's Institute of Contemporary Art is the culmination of the year-long Spiegel Contemporary Art Freshman Seminar.
The exhibit was a cooperation between these students, the ICA and artist Glenn Ligon. One of the instructors, art history professor Gwendolyn DuBois Shaw, said that over the course of the year, students searched to find "what idea resonated with them as a group, what got them excited" in order to shape the exhibition they would design in the spring. Ultimately, the students were able to visit Ligon, one of the artists whose work they had examined in class, in his own studio to discuss Ligon's work and the possibility of incorporating it into their plans.
The course was co-taught by DuBois Shaw and ICA Whitney-Lauder Curatorial Fellow Jennifer Burris, and had only five students. DuBois Shaw explained that the class's length and small enrollment made for an "intimate group… [with] time for background, time to get everyone on the same page."
The students were also influenced by the work of composer Steve Reich, choreographer Anne Teresa De Keersmaeker and filmmaker Thierrey De Mey. In addition, they wanted to "revisit an earlier exhibition in ICA's history," DuBois Shaw added, and examine "how we make history, and how to record it in a scholarly way."
According to DuBois Shaw, the students pitched their ideas to the ICA itself and worked alongside curators to design the exhibit. The students had to create a presentation and present in front of ICA staff in order to have their project approved. The students then collaborated with the staff to build the exhibit.
Rising College sophomore Alina Grabowski, one of the students in the class, emphasized the unique structure of the course. She was initially drawn to it by "the idea of a small freshman seminar with close professor interaction," and she thought that "Ligon's drawings [were] … aesthetically very interesting."
The ICA project was also a significant piece of the appeal. Grabowski said "basically, just having the opportunity as a freshman to curate a show at a contemporary art museum was incredible … I loved that the class had a really tangible product."
The exhibit will be on display at the Institute of Contemporary Art at 118 South 36th St. until July 28, 2013.
This article was updated to reflect that the artist's last name is Ligon, not Lingon.
Comments powered by

Disqus
Please note All comments are eligible for publication in The Daily Pennsylvanian.