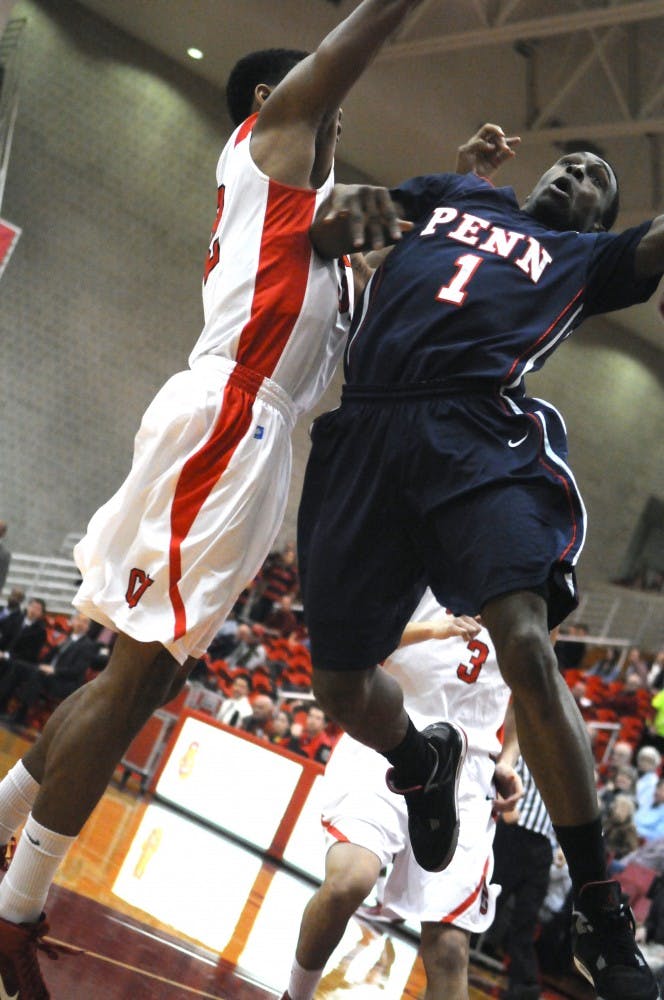 Rookie guard Tony Hicks scored 13 points in his first four minutes and three seconds at Cornell's Newman Arena Friday night. At that point, he was on pace for 128 points in the game.
Of course, the story of that game doesn't end with Hicks challenging NCAA records. However, it does end with a Cornell loss and Hicks recording a career-high 29 points.
The Chicago-native has been just short of exploding for a big game for some time, and the planets finally aligned against the Big Red, as Hicks found his mark — again and again.
He rained down threes, spun past double teams and sunk short jumpers. And when Cornell had enough and decided to guard him a little closer, Hicks cut back door and laid the ball up before the Big Red could react.
A night later, even as Penn's offense stalled against Columbia, Hicks recorded another sterling performance, putting up 19 points on 8-for-15 shooting.
After Columbia defenders swatted away a couple of his first drives to the rim, Hicks adjusted and attacked by utilizing a much improved jump shot. When the contest ended, he had accounted for more than half of his team's 14 field goals.
Hicks is an unusual talent to storm into the Ivy League. It's debatable whether any player in the Ancient Eight can match his quickness cutting to the basket. Pair that with a smooth three-point stroke and an accurate pull-up jumper, and virtually no team in conference can contain him when he has a good night.
However, Penn has been down this road before. After all, Miles Cartwright was not so different in his rookie campaign. The guard raised some eyebrows as a freshman, finishing with 18 points or more in six contests and snaring Ivy League Rookie of the Week on four occasions.
Like Hicks, Cartwright can slice to the basket with agility and looks to complement his quickness with a three-point shooting stroke.
But following a minor sophomore slump, Cartwright finds himself co-captain of a squad far from competing for an Ivy title. In an effort to stop the bleeding, he has taken matters into his own hands, often unsuccessfully, shooting just .378 from the field this season.
Cartwright may represent a glimpse of Hicks' future if the Chicago-native isn't careful. Before it's too late, Hicks should take note of Cartwright's journey and the obstacles that have impeded it.
For instance, no one is ever a freshman sensation forever.
The Big Red won't forget Hicks torching them for 29 points. Next season, Cornell will have watched hours of tape and concocted a game plan to stop him, and you can bet the same will be true of Columbia.
This will make Hicks' ability to share the ball and be a playmaker all the more important, and he can look to Cartwright's play against Cornell for a prime example of how to do it.
Though not always successful this season as a floor leader, Cartwright ran the show against the Big Red, dishing out nine assists to go along with 15 points. The fact that Cartwright tied his career-high in assists on a night that Penn scored 79 points is no coincidence.
It's also no coincidence that in the season Zack Rosen set a Penn single-season record for assists, the Quakers won 21 games.
No offense can thrive without someone to make the right passes at the right time. Someday, neither Rosen nor Cartwright will be there to do it. And someday, everyone will know that Tony Hicks can score the basketball.
But it's a lot harder to stop a guard from racking up assists than from tallying huge point totals because the more attention a team focuses on one player, the more his teammates will be open.
Hicks already has the flash and flair to make himself look good. That said, it will be his ability to make his teammates look good too that will determine whether Penn reclaims the Ivy crown in his time.
KENNY KASPER is a sophomore philosophy major from Santa Rosa, Calif., and is an associate sports editor of The Daily Pennsylvanian. He can be reached at dpsports@theDP.com.
SEE
ALSO
Penn basketball seals comfortable win at Cornell, 79-71
Second chances for Quakers in New York
Phillips | McLaughlin's results beating Allen's potential
Phillips | Penn men's basketball still in search of signature win
Comments powered by

Disqus
Please note All comments are eligible for publication in The Daily Pennsylvanian.