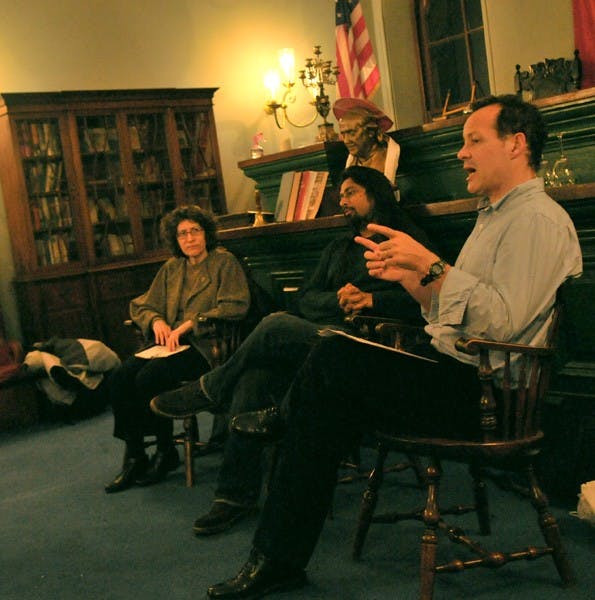 With an upcoming Supreme Court case debating California's Proposition 8, sex and marriage is leaving the bedroom for the national arena.
Thursday night, the Philomathean Society organized a panel discussion in Philomathean Hall, exploring the relationship between sex, love and marriage in the 21st century.
College sophomore Emmett Wynn, second censor of the Philomathean Society, pitched the event with the intent to stimulate interdisciplinary dialogue on the institution of marriage.
The discussion began with introductions from the panelists, including Kathy Peiss, professor of American history; Toorjo Ghose, School of Social Policy & Practice assistant professor and Eduardo Fernandez-Duque, associate professor of anthropology.
While Peiss expounded on the changes to the institution of marriage over time, Fernandez-Duque shed some light on the long-standing tradition of monogamy by alluding to relationships observed between non-human primate bond pairs. Ghose, on the other hand, articulated the different notions of marriage among sex workers.
The discussion then proceeded towards an exploration of the state's role in regulating certain reproductive and marital statuses.
"During times of intense social change … marriage is seen as a way to bring order to a disordered situation," Peiss said.
According to Fernandez-Duque, though, "Marriage is a social contract built on a core that has a biological substrate" and creates cooperation in small groups to bring stability to large communities.
Ghose approached the issue from a Marxist standpoint, claiming that marriages function to inscribe wealth to community members.
Later, the discussion took an interesting turn when Ghose held the state responsible for "dictating the imagination of pleasure."
He said, "Rights are used to institute surveillance methods." He described social movements in India, which destigmatized sex work and raised important questions concerning the nature of choice.
He also contrasted the position of sex workers — who make their sexual negotiations more equal by choosing their own partners — with people in middle class societies who feel obliged to enter into monogamous marital relationships.
The panel then started discussing the structural problems of monogamous marriages.
Peiss alluded to 1970s America, when feminists declared the institution of marriage unsalvageable. Many women during that era discovered that they lost their rights after entering into marital relationships.
The discussion ended with Fernandez-Duque's claim that "people cannot have strong bonds with more than one partner."
He added, "Even in polygamous relationships, there is a preferred person."
Philadelphia University senior Caroline Allen, who attended the event, agreed with many of the points brought up in the discussion.
"I don't believe in monogamy. I believe in open relationships," she said. "I wanted to listen to people who share the same opinions."
Comments powered by

Disqus
Please note All comments are eligible for publication in The Daily Pennsylvanian.