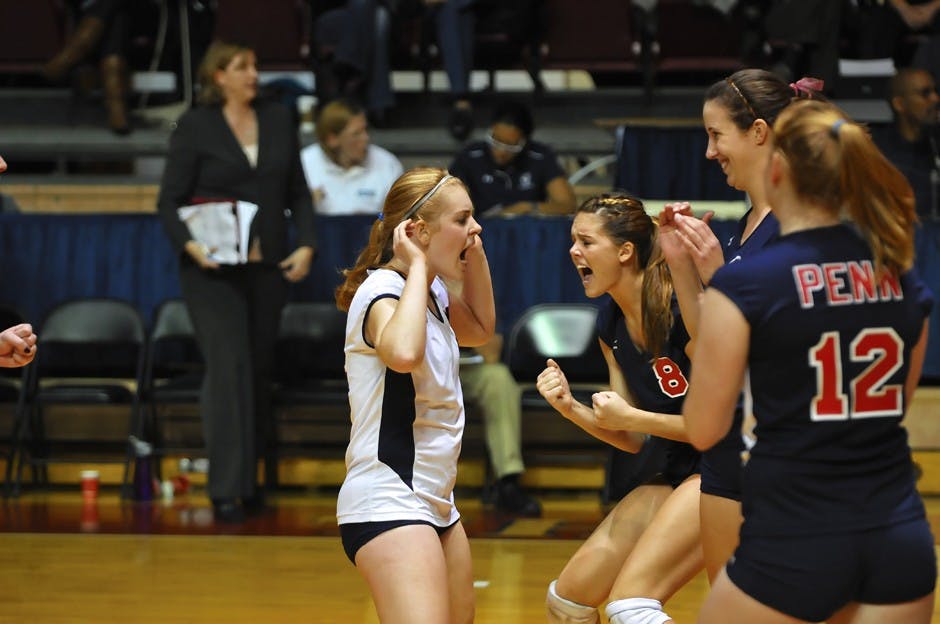 As Madison Wojciechowski prepared to serve for the Ivy title, the senior tried to stay calm.
"I remember looking at Megan Tryon, and we smiled at each other and said, 'This is the last point.'"
They were right.
An attack error by Princeton's Lydia Rudnick capped a five-set comeback victory for the Penn volleyball team in a match that came down to the final point.
With the win, Penn (16-10, 12-2 Ivy) clinched a share of the Ivy League championship, as well as a rematch against Yale Sunday to determine which team will represent the Ivy League in the NCAA tournament.
"Both teams played some of the best ball they've played all year," said coach Kerry Carr.
The Tigers (13-12, 8-6) came close to spoiling the Red and Blue's efforts, but a strong defensive performance and timely hitting proved to be enough for Penn to earn a share of the Ivy League title.
"I think we worked hard for that win and, knowing how important it was made us work that much harder," senior Julia Swanson said.
Defensively, Wojciechowski provided 36 digs, while Amanda Pacheco and Susan Stuecheli held it down at the net.
Pacheco finished the night with 6 blocks and 15 kills, hitting .250, while Stuecheli added 8 blocks and 10 kills, hitting .400.
Swanson added 18 kills for Penn, while fellow senior Megan Tryon dished out 52 assists.
The Quakers gained an early 15-7 advantage in the first set, and despite Princeton's efforts to claw back, they held on to win 25-22.
But the Tigers were not willing to lay down without a fight.
In the second set, Princeton went on a five-point run to take a 16-14 lead and capitalized on a few attack errors to take the set. Penn's struggles from the second set carried over to the third, as the Tigers' offense proved too much to handle.
Though the Quakers entered the fourth set down, they were unfazed.
Penn fans held their breath as the teams traded points up to 26-26 in the fourth set. But two clutch kills from Pacheco and Swanson ensured that there would be a fifth-set tiebreaker.
Down 7-3 in the deciding set, Penn's chances at the Ivy title seemed to be slipping away. But once again, the Quakers answered in the clutch to clinch the match.
"We have a lot of fight in us. Their backs were against the wall and they decided to say 'no,'" Carr said.
With just three days to rest before the Quakers take on Yale to decide which team earns the automatic conference NCAA tournament bid, Penn will have little time to celebrate.
"We're going to enjoy it for a night, and the season was great, but we want more," Carr said.
Comments powered by

Disqus
Please note All comments are eligible for publication in The Daily Pennsylvanian.