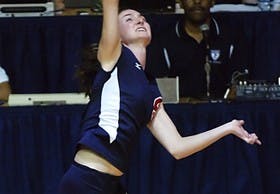 Penn volleyball is on a roll.
Senior Elizabeth Semmens showed that the Quakers' victory two weekends ago over reigning Ivy League champion Yale was no fluke. She recorded 43 kills and 30 digs in two games this past weekend and her 26 kills against Harvard Saturday tied for fourth highest in school history.
Behind the career-high numbers from Semmens — who earned Ivy League Player of the Week honors — Penn defeated both Dartmouth and Harvard in four sets to remain undefeated in Ivy League play.
Before the weekend, the majority of Penn's attack was spearheaded by the spectacular play of freshman Lauren Martin, who drew serious attention from defenses this weekend. The extra help assigned to Martin allowed her teammates to exploit the resulting defensive gaps.
"If we have such a balanced attack and everyone worries about one hitter on our team then that works to our advantage — it opens up our other hitters," coach Kerry Carr said. "I think that's exactly what happened this weekend."
Semmens' superb numbers attest to the talent distribution of this year's Quakers (14-4, 5-0 Ivy).
"What I love about this team this year and what makes us a possible contender for the [Ivy] championship is that we give other people that step up," Carr said. "It was Liz's turn this weekend."
Penn came out Friday against Dartmouth (7-9, 3-3) intent on containing star outside hitter Madeline Baird, who was ranked third in the Ivies in kills going into the game. Though Baird posted 11 kills, Penn held her hitting percentage to just .100.
The teams battled to a tie at 21 in the first set before Penn won, 25-23. Dartmouth won the second set, 25-19, on the heels of a mid-set run. Penn retaliated by dominating the majority of the third set, but let Dartmouth back into contention before closing out the set 25-22. The Quakers took a commanding 7-1 lead early in the fourth and never looked back as they won it 25-18.
"We were really good about going to our hot hitter at the time," Semmens said. "And then we passed really well. We really had a good sense of urgency."
Penn knew it faced a stronger offense Saturday against Harvard (7-10, 3-3). Crimson kill leader Anne Carroll Ingersoll was ranked ninth in the Ivy League in kills per set going into the weekend. The Quakers again proved that they could contain star players, holding Ingersoll to a .100 hitting percentage.
Harvard started off with an early run, but the Red and Blue responded with runs of 9-1 and 8-2 to take down the first set, 25-15. The teams traded runs in the second set until a 24-24 tie, but a Semmens kill and Harvard error gave Penn the win. The Crimson stayed just out of the Quakers' reach during the third set, outscoring them 25-22. Scoring was back and forth early in the fourth set until Penn routed Harvard with a 13-5 run to win the set, 25-16, and clinch the match.
"We were completely consistent the whole time, we didn't have any ups and downs," Semmens said. "I think that's when we're completely unstoppable."
With victories against Dartmouth and Harvard, the Quakers have their best conference start since 2003, when they began the Ivy season 9-0 and won their third-straight Ivy title.
"In the Ivy League it's really hard to stay undefeated," Carr said. "Our goal is to make sure that we bring our A-game every week. … Anyone can have a great night, and if we have an off night anyone can beat us. We're trying to work really hard to make sure that doesn't happen."
— Sports Editor Noah Rosenstein contributed reporting to this article.
Comments powered by

Disqus
Please note All comments are eligible for publication in The Daily Pennsylvanian.